89
Android 10 is finally here and it brings a lot of changes from the last version of android (Android 9.0 Pie). Android 10 is more Smooth, more and more user friendly. The era of dessert names has ended after the re-branding of Android 10.
Google's main highlights for Android 10 are new navigation gestures, additional security, and enhancing existing features.
I this post, I have also told you how to use Android 10 Features. So, stay tuned and read the full post.
I am personally using android 10 for the last 30 days and haven't faced any issues so let's get started and talk about the Top 5 new features of android 10.
1. Navigation Gestures
Android 10 brings cool new navigation gestures similar to Apple iPhone and works relatively well.
You can toggle gestures by navigating into Settings > Buttons & gestures > Navigation bar & gestures.
Must Read: Xiaomi Mi Band 5: Features and Upgrades We Expect!
2. System-wide Dark Mode
Android 10 brings some cool UI customization and a system-wide dark theme that we have been waiting for.
Dark mode gets applied on every app and menu whether it is app drawer, notification panel, settings, and all social media apps like Facebook, Instagram, or Twitter.
Have a look at screenshots taken on OnePlus 7.
It looks pretty cool, right?
It will also increase the Screen On-time of your smartphone.
How to Apply – Settings > Customisation > Tone > Dark.
Dark Mode doesn't get applied to some applications like Google Maps, Snapchat, etc. I hope these apps will also support dark mode in future updates.
Also Read: Best Telegram Channels For Movies – 9 Indian Languages
3. Smart Reply
The Smart Notification reply is one of the main highlights of Android 10.
This feature in the notification shade suggests your actions based on your notification content and it's pretty cool.
For Example, if you receive a notification that includes an address then the smart reply will suggest you open it in Google maps.
Also, if you receive a notification with include a link then the smart reply will suggest you open it in Google chrome.
Yeah, the Notification Shade keeps getting Better. Pretty user-friendly, Right?
4. Digital Wellbeing
As the name suggests the main focus of Digital wellbeing is to remove or reduce the distractions made by the smartphones and bring some peace in our life.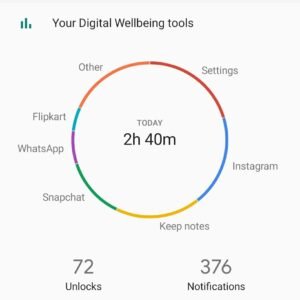 How does it do this?
Basically, it tells you how much time you spend on each application. How many notifications you have received in a day and from which application. How many times you have unlocked your phone in a day.
You can set App timers for the apps. When the timer ends, the app is paused for the rest of the day. App timers get reset at midnight so you have to set it manually every day.
Wind Down, another feature under digital wellbeing which also helps you to disconnect from your phone.
How does it work?
Get a bedtime reminder

Wind down reminds you to sleep by turning your phone's color to grayscale

Night Light

Night light tints your screen and makes it easier to use your phone in dim lighting

Do Not Disturb

Wind down mutes sound so you don't get interrupted while sleeping
5. Security & Privacy
Google has been concerned about security over the last few years. Android 10 brings more control in your hand over the data the apps are using.
For Instance, while granting location permission to an app, the android will ask you to grant access: all the time, only when the app is in use or deny access.
Android 10 made your location more private because now you can restrict apps from tracking your location in the background.
There is a similar prompt for things like recording audio, reading contacts, and other sensitive permissions.
Additionally, Apps to download stuff only get access to downloaded files instead of all the files in your phone's internal storage.
There is also a change in privacy settings, now you can view and control all the privacy settings from App Permissions to Locations History in one place – Privacy settings.
What is your favorite feature of Android 10?
Tell us in the comments below. Peace.