81
Xiaomi Mi Band 4 has stolen the heart of millions with its nifty features and specs like the Colored AMOLED Display, unlimited watch faces, swim tracking, and more. Mi Band 5 is also expected to do the same.
But the question is – Should you wait for the upcoming Mi Band 5 or buy a Mi Band 4 in 2020?
Today, I will help you in deciding whether to wait for Mi Band 5 or buy the Mi Band 4!
Talking on Mi Band 5, Huami (Mi Band manufacturer) had confirmed that Mi Band 5 would see the 2020 release. It was expected to release in June 2020 but the current global conditions due to the COVID-19 pandemic can delay its launch.
Mi Band 5 can bring a 1.2″ colored AMOLED display which is about 25% bigger than the Mi Band 4.
Rumors also say that Xiaomi will launch a global NFC version of the Mi band 5 which may support the payment apps like Google Pay.
Read the full article on Mi Band 5 – Expected Features and updates for more details.
But in the end, all the above are rumors! No words by Xiaomi on the Mi Band 5, what it might deliver.
Have a look at a brief comparison between both the fitness trackers.
[adinserter block="6″]
---
Mi Band 4 vs Mi Band 5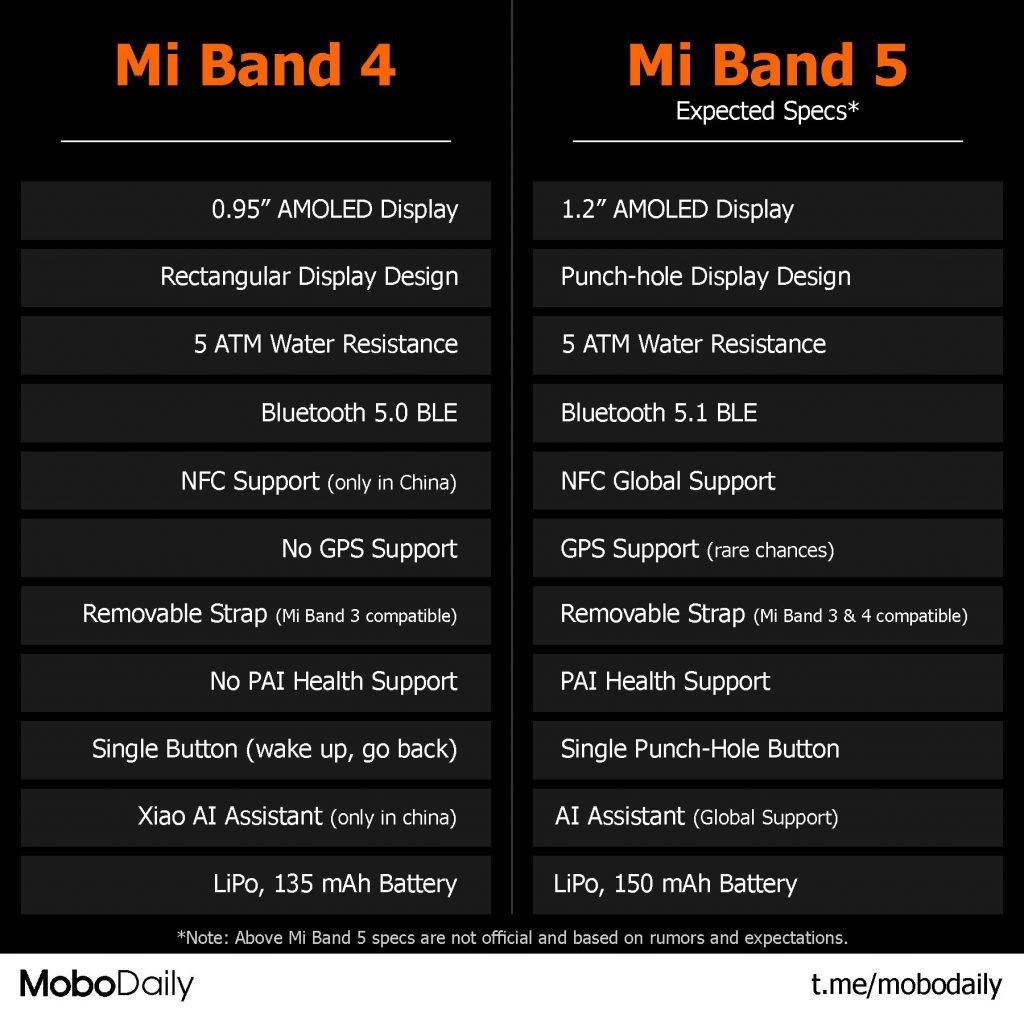 Note: Above Mi Band 5 Specs are not official and based on rumors, leaks, and expectations.
I hope this comparison has helped you arrive at a decision.
[adinserter block="7″]
So you will be thinking there's a lot of difference between Mi Band 4 and Mi Band 5 (display, NFC, and all) and you should wait for the Mi Band 5.
Should you wait for Mi Band 5? Let's See.
---
Why you should consider buying the Mi Band 4?
I have listed 8 reasons and facts considering the current scenario that will help you in making the right decision.
Variety of Watch Faces
Watch faces can be the prominent factor you should think about buying a Mi Band 4.
Mi Band 4 has the largest collection of watch faces than any other smart band. You can select the best watch faces out of them for your mi band.
[adinserter block="8″]
There are various sources where you can browse the watch faces for Mi Band 4 like – Amazfitwatchfaces and Mi Band 4 Watch Face App. On the other hand, Mi Band 5 will take time to build such a big collection.
If you want a good collection of watch faces for your fitness tracker, go for the Mi Band 4.
Checkout: 7 Best Minimal Watch faces for Mi Band 4
Third-Party Apps Support
Mi Band 4 is supported by a decent number of third-party apps which will make your lifestyle easy. Here's a list of some best third-party apps:
Gadget Bridge – Open source alternative of Mi Fit app
Notify & Fitness for Mi Band – gives detailed insights compared to the Mi Fit app
Mi Band 4 Watch Face – watch faces app
Quick Sleep – Turn the Screen off with your finger
Band Selfie – Use Mi Band 4 to take a selfie
Navigator for Mi Band 3, 4, Bip and Cor – Google maps directions
For more details, read this article on best third party apps by Tizen Help
Display and Design
Mi Band 4 has got an amazing 0.95″ colored AMOLED display, rectangular with a screen resolution of 120 x 240 pixels and screen brightness up to 400 nits. Taking about Design Mi Band 4 has followed Elliptical Design like its predecessors which is durable and comfortable.
Recently Xiaomiksha, a trusted Xiaomi insider tweeted some leaked images of the Mi Band 5 on twitter which features a full display with a punch-hole button at the bottom. However, it is said to be fake.
So display will not be a major factor that can resist you for buying a Mi Band 4. Let's discuss the price factor.
It's Cheap
You have to admit it that Mi Bands are cheap!
Mi Band 4 costs around just $30 in the US and ₹2,299 in India. This isn't a big amount, you should spend $30 on a smart band that you will use for months until the Mi Band 5 release. You spend 20-30 dollars on a restaurant, lol.
[adinserter block="9″]
Ok, Let's assume that the amount matters to you. In that case also, you should consider buying the Mi Band 4 because Mi Band 5 will see a noticeable price hike. Considering the upgrades (NFC, GPS, and PAI Health) Mi Band 5 could feature, the cost can get up to $50.
Don't Overthink, Mi Band 4 is totally worth it.
You can resell it
Why not buy a Mi Band 4 while you can easily resell it at online marketplaces like OLX and Quikr!
You can get an amount up to 80% of the invoice value on these online marketplaces. You will find a lot of buyers who are waiting to make a purchase.
Or you can just give it to your friends and family if money is not a matter for you, they will reluctantly wear it.
Enjoy using the Mi Band 4 till the release of Mi Band 5 and then resell it.
Amazing Battery Life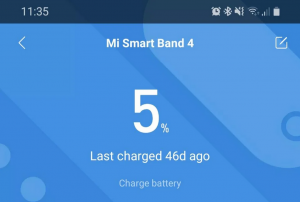 Mi Band 4 consists of a large 135 mAh battery which is 35% bigger from its competitor Honor Band 5.
Mi Band 4 has a great standby time, So you don't need to worry about charging it over and over again. However, battery Backup can fluctuate depending on the settings you use for your mi band.
We have to give 5-Stars to the Mi band 4 for the Battery life, right?
Mi Band 5 is in rumors
Will the Mi Band 5 feature NFC?
Will it have GPS onboard?
No Idea! Xiaomi has said no words on the Mi Band 5 yet, they said it's in works and nothing else. So we can assume that it's not gonna release in June like its predecessors. We barely know about the design and specs it will consist of.
The recent and first leak of Mi Band 5 was also proven false.
Mi Band 5 is made up of rumors and expectations! Not Expected to release soon.
Current Global Conditions
You shouldn't forget the Covid-19 factor which has or can become a big restraint in the launch of the Mi Band 5. The Covid-19 has been spreading at a very fast rate which has put a dreadful impact on the global economy.
E-Commerce has been restricted in almost every country and only going on in a few cities and towns. Can't say, how long E-commerce sites will be allowed to work.
Feel lucky and order a Mi Band 4 if E-Commerce is still going on in your area.
Now. it's time to take the final decision!
Should you wait for the Mi Band 5?
No! Considering the above factors, you shouldn't wait for the Mi Band 5.
We barely know about the specs! We have no idea of its release date! We don't know about the design! Xiaomi has said no words on it yet, so we can assume that its not gonna release in June. COVID factor can also cause a delay in the launch of Mi Band 5.
Suggestion – Go for the Mi Band 4, it got an amazing colored AMOLED display, insane battery life, variety of watch faces, and more.
Mi Band 5 is in rumors, think about it when it comes out. Don't wait for it.
Go Ahead for the Mi Band 4! You made a great choice.
I hope was able to solve your confusion. All your queries and suggestions are welcome in the comments below. Peace.