Mi band 4 is not just a fitness band anymore, it brings a lot of cool new features like custom watch faces which makes it smart and better from its predecessors.
Today I will tell you those Mi Band 4 Hidden Features that nobody will tell you ever.
First, let me give you an overview of Mi Band 4.
Mi Band 4 Overview
The main highlight is the 0.95″ Coloured AMOLED display with a resolution of 120 x 240 pixels which is quite enough for this size. It comes with 2.5D tempered glass. The screen is clearly visible in direct sunlight thanks to 400 nits brightness display.
Mi band 4 continues the legacy of great build quality like its predecessors. It's not curvy as mi band 3, I personally like the curvy design of mi band 3. The build quality is great and the band can easily handle a drop.
Mi band 4 comes with a great 135 mAh battery bigger from 110 mAh battery in mi band 3. The charger is different this time names 2-pin Pogo pin charger. Mi band 4 gets fully charged form 0 to 100% within 2 hours which is huge compared to 3 hours in mi band 3. In my usage, it lasted for 12 days with automatic heart rate tracking turned off.
Mi band 4 comes with Bluetooth 5.0 connectivity which helps it in staying connected to your phone in long distance. It is also water-resistant up to 50 meters so you can wear it while swimming.
Mi band 4 weighs around 22.1g. Body size and shape of Mi band 4 are identical to Mi band 3 so you can use the straps of mi band 3 on the mi band 4, a plus point for the mi band 3 users.
So let's talk about some nifty hidden features no one will tell you!
1. Custom Watch Faces
The Mi band 4 comes with 3 default display faces when unboxed but you can apply a number of watch faces with the help of Mi Fit app.
You can also apply custom display face like the PUBG watch face I have applied also with the help of Mi Fit app and no third-party app is required.
Yes, you have heard it right, no third-party app is required.
I don't recommend installing other apps because those apps affect the proper functioning of the band.
2. Custom Vibration Pattern
Mi band 4 brings this cool new feature of custom vibration pattern with it which makes it unique and better from the competition.
There are not only a number of options of vibration pattern you can choose but Mi Band 4 allows you to create a custom vibration pattern of our own.
You can create custom vibration patterns of your own with the help of the Mi Fit app and use them for all the band alerts like incoming calls, app alerts, alarm, text messages, events, idle alerts, and goal reminders.
How to create a vibration pattern:
A. Go to the Profile section in Mi Fit app and then tap on Mi Band 4.
B. Tap on Incoming call section and then tap on Vibration and then on the + Add button.
C. Tap on the mobile screen to create a vibration pattern.
A new screen will appear like in the below screenshot.
Here, Tap on the screen in the same pattern you want the band to vibrate, you can also check the pattern by tapping on "Vibrate on the device" on the left bottom. Now save it and apply it.
Ta da, now your mi band will vibrate in the pattern you just created.
You can create a different vibration pattern for each band alert (text messages, alarm, reminders, idle alerts, etc.) in the same way described above.
Xiaomi has done a great job, right?
3. Brightness Control
Mi band 4 is pretty bright and visible in direct sunlight thanks to 400 nits brightness.
Mi band 4 facilitates brightness control up to 5 levels which can be adjusted manually in the band settings without the help of Mi fit app.
Just go to More > Settings > Brightness to adjust the screen brightness.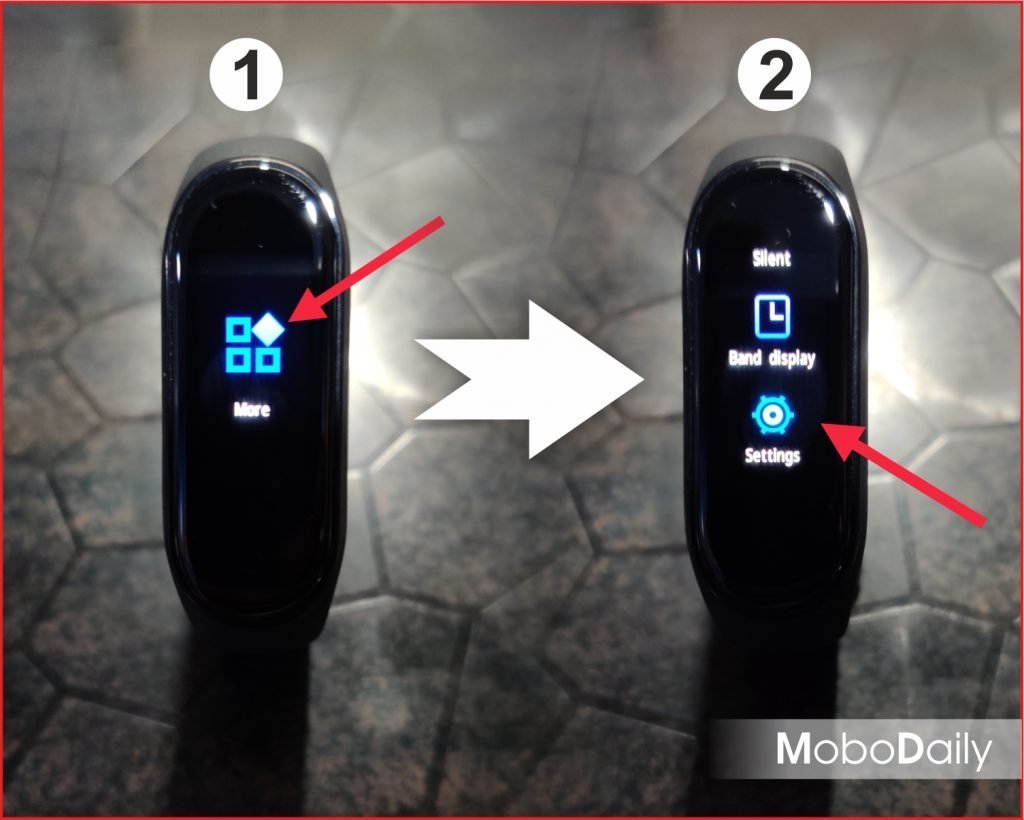 You can also enable night mode and schedule its start and end time, it will automatically reduce the screen brightness.
4. Smart DND Mode
A night of healthy sleep is very important for a healthy lifestyle. Mi band 4 takes proper care of your sleep by automatically turning on Do Not Disturb (DND) when you fall asleep.
Go to More > DND > Enable Auto turn on
5. Band Lock
Xiaomi has been always concerned about security and privacy. To ensure no one misuse the band, you can enable Band lock. You can set a 4 digit pin from 1 to 4.
The main thing to note is that Band lock only gets enabled when it's off your wrist so you can use the band without any interruption.
Pretty smart!
Open Mi Fit app > Profile > Mi band 4 > Lab > Band Lock.
Conclusion
Xiaomi has done a great job as always, a colored AMOLED display, music control, 6 workout options, and all other smart features are highly welcome and appreciated.
Mi Band 4 gives a premium feel on the wrist and is best in the price segment. I personally recommend you to buy mi band 4 over other smart bands.
Great job Xiaomi!
So what's your favorite feature of Mi band 4, tell us in the comments below.
See you in the next one. Peace!