In the Indian share market, timing is everything. A single moment can make or break your trades.
So obviously, you would want to get the most accurate and timely information about the market trends.
This is where Telegram channels for intraday trading come in handy!
But… it is becoming increasingly difficult to filter out the noise and find the best stock market Telegram channels.
So here is a compiled list of the 11 best intraday Telegram channels that will provide you with all the information and analysis you need to make profits in the market.
1. Honest Stock Marketer
Channel link – https://telegram.me/honeststockmarketer 
With 10k+ subscribers in such a short period, it is safe to say that Honest Stock Marketer has stood true to its name in delivering honest and profitable intraday trading tips.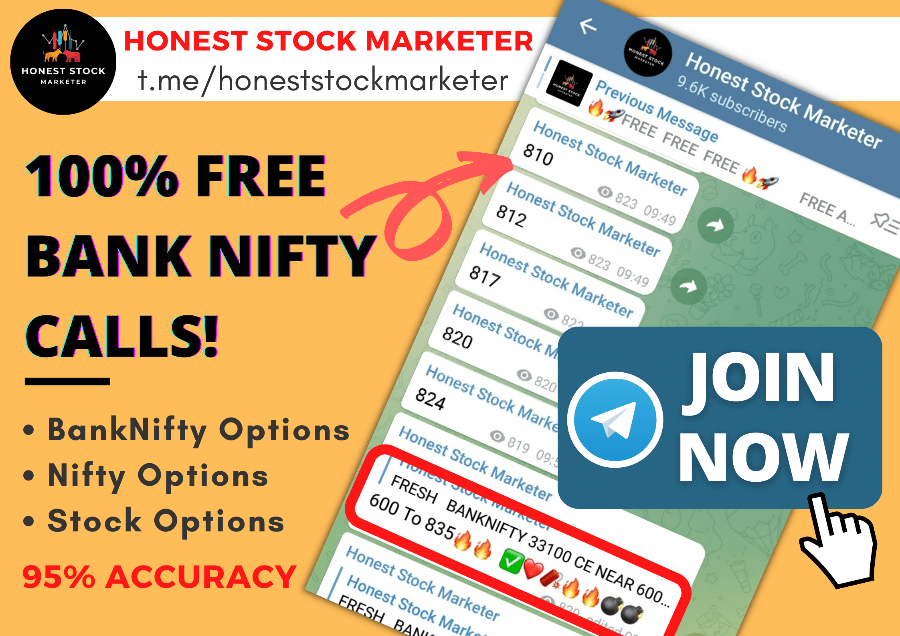 On the other hand, the premium group has several benefits, including 3-4 Stock Option & Stock Future Calls, Live guidance & support, and Daily 6-7 sure bank nifty trades.
90 to 95% accuracy, as said in the bio
10,100+ subscribers
Budget-friendly premium channel
2. Bulls Bears Traders
One of the most reliable names in this list, Bulls Bears Traders is a NIFM certified source for intraday trading, that has been there in many top ranks of the intraday trading telegram group lists.
The channel provides free calls for all levels and experiences of intraday investors. Bulls Bears Traders has an impressive accuracy rate of 90%, which makes it a best-in-the-class intraday trading advisor.
You can also opt for the premium jackpot channel @ just Rs. 5999, for a period of 90 active trading days.
Tons of educational and trading lessons
Over 8,400 subscribers
Offer hero zero calls, as well as best option tips
Here is the intraday Telegram group link to join Bulls Bears Traders: https://telegram.me/bullsbearstraders
3. Shree Ganesh Stocks and Investments
An authorized and reputed sub-broker with the popular portfolio management service provider IIFL Securities, Shree Ganesh Stocks and Investments has created an agile community on its Telegram channel.
The channel offers both short-term and long-term investment tips. Here you are offered several different premium channels to choose from, based on different segments, such as EQUITY, FUTURES, STOCK AND INDEX OPTIONS, COMMODITY, CURRENCY, etc.
Along with intraday trading tips, beginners in the business can also get Demat account opening services, as well as solutions to all of their investment-related queries.
1500+ active traders
85%+ accuracy assured
Cost-effective premium options
To join the Shree Ganesh Stocks and Investments, follow the link: https://telegram.me/shreeganeshstocksandinvestments
4. Trade On Data Institute
A venture of a team that has several seasoned traders and investors working there of the subscribers,
Admins here have focused mainly on delivering educational courses for new investors who have no idea how the market works and how profits are earned.
Uniquely, Trade on Data Institute has a dedicated channel called Trade on Data Team (@TradeOnDataTeam) where investors and traders can contact the team for any query for FREE!
Click on the link https://telegram.me/BankNifty_Nifty_ProTraders now to join Trade on Data Institute.
5. TradeOnomics
TradeOnomics provides "INTRADAY EDUCATIONAL TRADES ON STOCKS/INDEX", aiming at providing consistent profits. The trade strategies offered here cover areas of Options Trades for Nifty, Bank Nifty, and Stocks.
You can get live support via TradeOnomics for risk management during live market hours. You can also ask for expert views on your portfolio, and on stocks, you are interested in.
Live support via the @TradeOnomics_Support channel
Over 7,800 subscribers
Get detailed trade reports during live market hours
TradeOnonmics is available via the link: https://telegram.me/TradeOnomics
6. Stock Tips Intraday
A massive community of over 106K+ students, seasoned traders, and newbie investors, Stock Tips Intraday has gained a lot of positive reviews in recent times, making it one of the best intraday tips providers on Telegram.
The channel has limited tips to offer the free channel, still, you get real-time updates and tips useful for beginner-level intraday trading.
Free intraday calls on Telegram
Accurate Stock information based on analytics
No hidden charges
You can visit the channel at https://telegram.me/stock_tips_intradays
7. Bombay Trader
Bombay has a decent record in providing intraday trading tips and educational-driven content on its Telegram channel.
This is a well-known analytics-driven Telegram community for intraday trading and investors with almost 3100+ subscribers. The premium group is available at minimal cost with benefits like Daily Bank Nifty Trades, F&O Trades, and more.
Custom support for premium users
2-6 Intraday Daily trades
Personal trade solutions
To join the Bombay Trader Telegram channel, click on the link: https://telegram.me/ShareMarket_Intraday now!
8. Stock Master
Stock Master is a complete package for beginners. You get around 2-3 considerable intraday calls each trading day and have reached a good 95% accuracy rate in recent times.
Being one of the best stock market advisors, they also provide trade levels on both – the buy and sell sides. Stock Master is genuinely one of the best telegram channels for intraday calls and safe for newbies.
Around 75K followers
Analysis by trading experts
F&O Trade Setups with the premium version
You can visit the Stock Master channel here: https://telegram.me/Stock_Masters
Recommended: 10 Best SEBI-Registered Telegram Channels
9. Wealth Citi
Wealth Citi shares 2 to 3 daily trading ideas on all active trading days. Here you get all trading-based educational tips and suggestions as Wealth Citi is created to help beginners learn the art of reducing losses and boosting profits in the Intraday setup.
This educational trading tips channel has over 5.8K subscribers and offers exclusive Demat account opening packages to new users as well.
Special offers for trading apps
Swing Trade Setups
Minimal charges for a premium account
Start learning the insights of trading with Wealth Citi here: https://telegram.me/wealthciti
10. Badshai Trading
One for the people looking for a simple, less advertising, a minimal channel with safe trading tips, calls, and courses. Badshai Trading is a well-thought channel that now has over 652K subscribers.
Here you can get educational calls for trying out your learned lessons. A simple yet educational channel!
Straightforward and educative calls
Follows SEBI-established guidelines
Transparent and non-promotional content
Click here to start your intraday trading journey with Badshai Trading: https://t.me/stock_share_intraday
In the end
These were some of the best Telegram channels for intraday trading in India that you can join to get accurate and timely information about the market trends. These channels will also help you learn about Intra day trading and how to make money from it.
So, what are you waiting for? Join one of these channels now and start making money in the market!
Disclaimer: This post is for educational purposes only. Consult with your financial advisor before trading.
Are you an intraday tips provider?
Contact us to get on the above list.