The proliferation of data in the cloud has led most of us to use more than one cloud storage service. Users need to transfer data between cloud drives, transfer interesting photos to family accounts or use multiple accounts simultaneously to save costs. Different brands offer different services. Some of them are affordable, some are versatile, and some have better security performance, all of which influence users to choose the right cloud storage service.
For users of Google Drive, one account simply cannot meet their needs. Many users choose to use multiple Google Drives for work or school use. In the process of using multiple Google Drive accounts, users can send jobs directly to another account, and companies can send important data to other corporate accounts. This data can then simultaneously gain specific features such as encryption, advanced data loss protection, permission control, and file permission settings.
It's not hard to imagine that one has to download all the files and re-upload them to another cloud storage service, which is very difficult for users with large amounts of data and lots of files. Many users store data in a well-organized manner, and if migrated from one cloud to another, it is difficult to maintain the same file and folder structure, making it difficult to access data from a new cloud service.
Luckily, there is an excellent cloud file transfer tool — MultCloud, which not only helps manage cloud accounts but also helps move files between Google Drive accounts.
Best Tool to Transfer Files from One Cloud to Another Easily
MultCloud offers cloud file migration from one cloud to another with Cloud Transfer, Team Transfer, Cloud Sync, and Cloud Backup options that let you choose the files and folders you want to transfer. This way, your files are well organized as they were stored in previous cloud storage services. Not only that, but you can also remotely upload data from URLs, torrent files or magnet links to cloud storage services. 
Why MultCloud is Recommended?
Convenience. MultCloud provides easy access to data from multiple cloud storage accounts with only one platform.
High security. MultCloud ensures safe migration without storing any user data on the server.
Fast. Transfer speeds are guaranteed because MultCloud has the infrastructure and technical capabilities to handle high-risk and mission-critical migrations easily and seamlessly.
Simple. MultCloud provides a simple and intuitive user interface. Whether it's transferring, backing up, or syncing files across clouds, it's just a few clicks away.
How to Move Files between Cloud Storage Services with MultCloud?
MultCloud is a cloud-based service that currently supports more than 30+ services, such as Google Drive, Dropbox, OneDrive, Box, Amazon S3, SharePoint Online, Wasabi, and so on. By adding cloud drives to MultCloud, you can completely manage different cloud storage accounts and anything in between. With MultCloud, you can:
– Manage Clouds in One Place
When you have many cloud services, managing data in them with different applications is not easy. However, MultCloud can help you manage cloud data easily and efficiently. Since you can connect to multiple services from a single service, you can upload, download, and manage all your data, as well as an easy way to identify multiple accounts for the same service.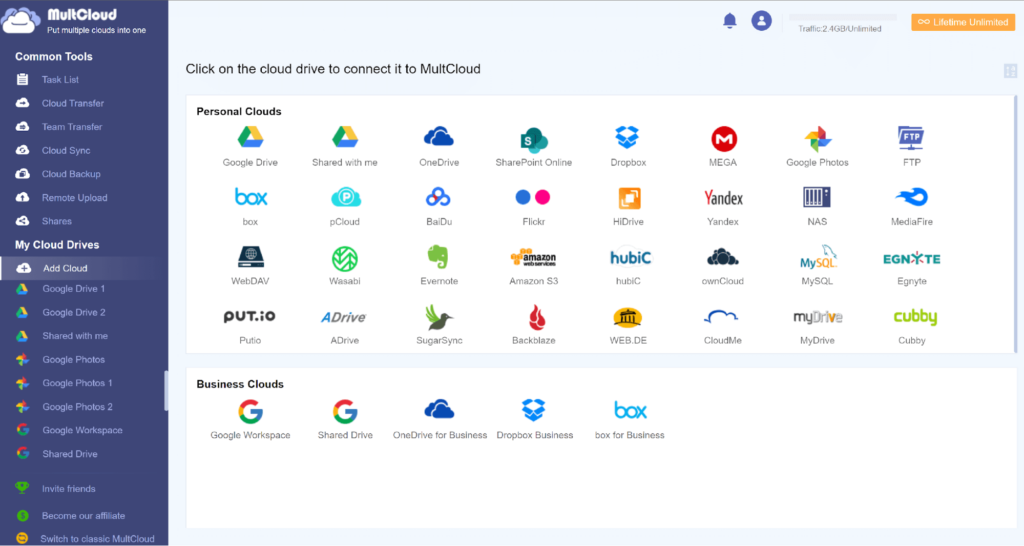 – Move Files between Cloud Services
While it is possible to manually download files to a computer or phone and upload them to other cloud storage service accounts, any failure results in lost files and a lot of administrative confusion. MultCloud makes the cloud file migration easier. You can display it in two separate columns for the service, just select the files you want to move and migrate files from one cloud to another, for example, Google Drive to another account.
To transfer Google Drive to another account, you just click "Cloud Transfer", select one of your Google Drives as the source, select your other Google Drive as the destination, and click "Transfer Now", and the migration will begin.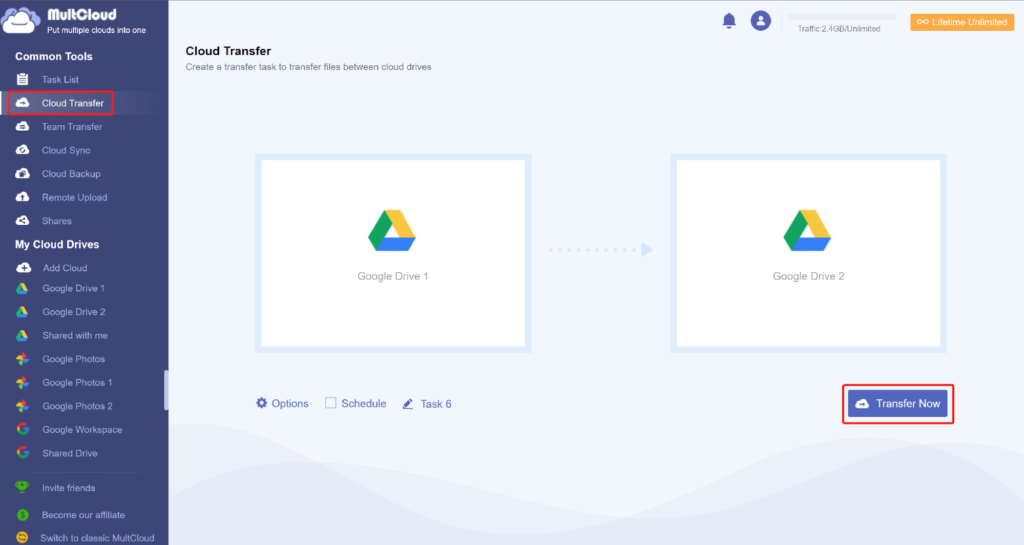 Transferring files with MultCloud is much easier than the traditional way of downloading and uploading. What's more, it supports the one-time transfer of data, which will save you a lot of time, you no longer need to wait in front of the computer for the operation to complete.
Notice:
MultCloud can also help you automate transfer tasks after setting specific times in "Schedule."
Using the "Team Transfer" function, the enterprise account administrator can also uniformly transfer all sub-account data under the enterprise account to another enterprise account, and can also automatically pair all sub-accounts.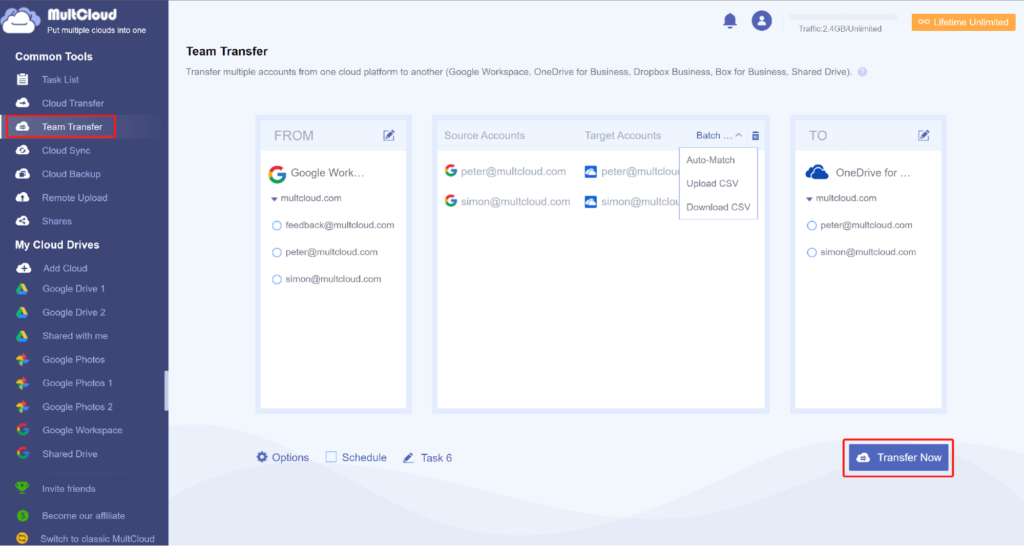 – Sync Files across Clouds
While cloud storage can be used to back up important data on local devices, it's not a long-term solution. Cloud storage services will also encounter data corruption and loss. In this case, you need to make other backups, such as backing up to other more secure cloud storage services.
But when cloud data backup is required, you will have to copy this data manually, which will be very time-consuming. At this point, you can choose MultCloud's "Cloud Sync" feature, which migrates these changes from one cloud to another on time, such as syncing Dropbox to OneDrive.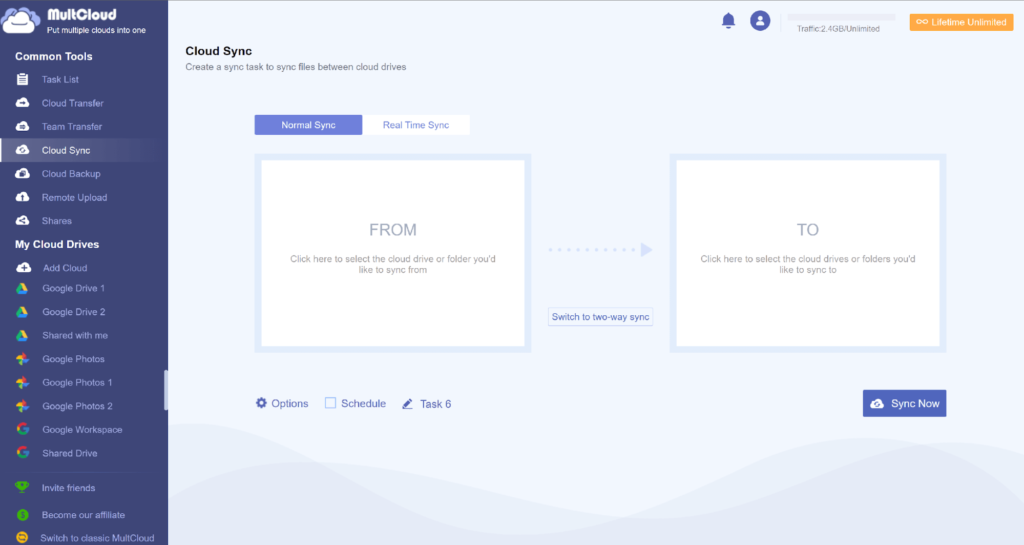 "Cloud Sync" allows users to use it more flexibly. It supports not only "One-way Sync" but also "Two-way Sync" and "Real Time Sync," which can largely synchronize changed data to other cloud accounts in real time.
– Backup Files from One Cloud to Another
When you have important data backed up to other cloud drives and file storage services, "Cloud Backup" can help you perform cloud-to-cloud backup quickly. Just select the data to be backed up and the destination, MultCloud can directly back up the data to the corresponding location and provide recovery operations when the source data is lost or damaged.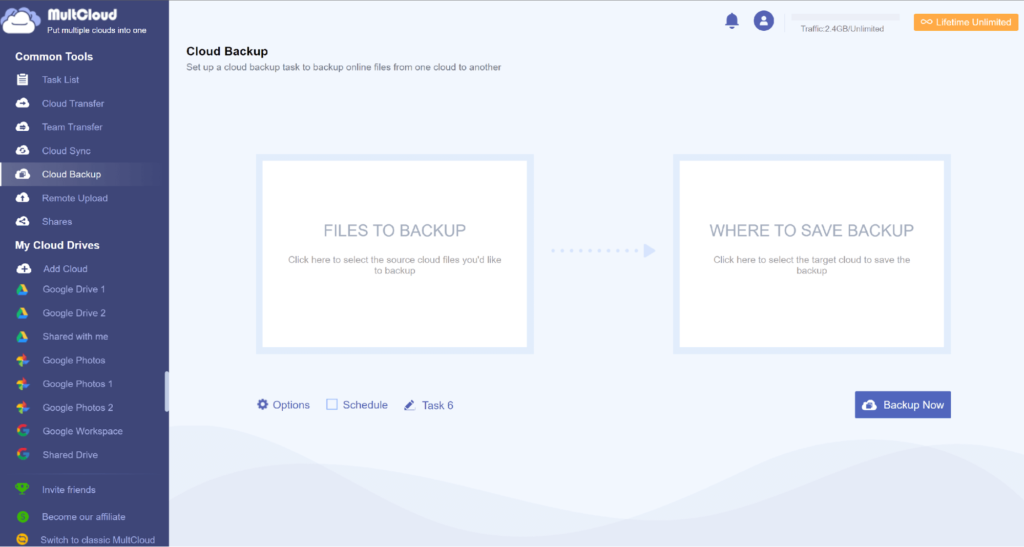 Conclusion
To easily complete the data migration of two or more cloud storage accounts, it is unrealistic to simply upload and download, because each account has more data than imagined. With MultCloud introduced in this article, data can be directly migrated to the corresponding location with just a few clicks, which is very convenient. In addition, enterprise accounts can also easily migrate the data in each sub-account.