Disclaimer: This post is for educational purposes only, contact your financial advisor before trading.
Telegram has become a great and free source of knowledge in recent years whether it is education or the stock market.
If you're looking for the best Telegram channels for the Indian stock market, your search ends here!
We have filtered and listed some best telegram channels/groups that can provide you with high-quality knowledge about the stock market and some trading tips as well.
Here are the 11 best stock market Telegram Channels in India:
BEST OVERALL
Led by SEBI-registered research analyst – Dr. Seema Jain, StockPro is the best and free Telegram channel for the stock market. Along with educating thousands of traders, they also provide authentic stock market knowledge and tips on their official broadcast channel on the Telegram App.
Being the best overall stock tips Telegram channel, they share a variety of stock market content and knowledge including trading calls, YouTube videos, strategies, market trends, chart analysis, and free webinars, making StockPro the best overall channel for the stock market.
One of the best things about them is – They provide trading calls on quality stocks only. Moreover, they provide exact entry levels for many stocks daily. So you should join this channel if you want to learn about the stock market and make money.
Free trading calls with accurate entry-levels
Educational video content
Live trading through webinars
Regular multi-bagger stocks
Recommended: Is StockPro the best stock training academy in India? (Full Review)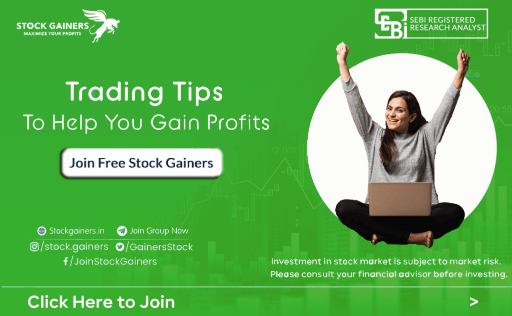 All-in-one trading channel
Usha's Analysis is one of the best telegram channels for options trading in the stock market space. They provide a variety of investment and trading ideas daily – short-term stock ideas, FnO trading tips, long-term investment ideas, swing trading tips, and more. Their daily 2-3 free calls include – positional and intraday trades.
Being a share market Telegram group, They can also assist you in managing and growing your stock portfolio as per your investment and trading needs. Moreover, they also serve investors and professionals that can not sit in front of the trading screen all the time.
Free; paid services
Best for both small investors and HNIs
Portfolio management services
BTST trade ideas
Recommended: Top 7 Stock Market Advisors in India you should know!
Best for BankNifty Trading
BankNifty Masters is one of the most popular Telegram channels trusted by around 40k active subscribers. They provide expert views on BankNifty and Stock options daily along with 1-2 sure-shot calls.
As per the Admin, their prime motto is to educate both beginners and experienced traders and help them earn profits through options trading. One thing that we liked about this channel is that they provide regular updates on calls given in the channel – whether to exit a trade or book profit.
They also provide paid services to interested traders along with free knowledge and views on the Telegram channel.
1-2 free BankNifty calls daily
Up to 85% Accuracy
Transparent reports on P&L daily
Premium Services with Personalized support are available
Recommended: Top 10 Investment Advisors on India [SEBI-Registered]
Best Stock Options Telegram Channel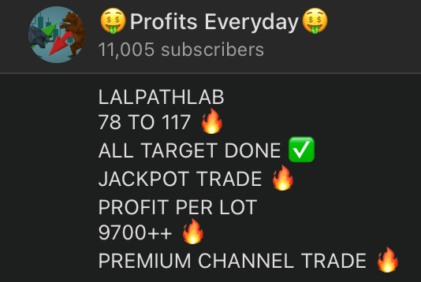 Profits Everyday is among the best Telegram channels for stock options because they specialize in providing analysis-based tips on stock options. They post one stock options call daily for free along with updates on whether to book profit or exit the trade on time.
Within a short time, the channel has gained 11k+ active subscribers. They also provide premium services at cost-effective prices. They claim to recover membership fees within 2-3 trades.
Free; paid services
Cost-effective premium services
Personalized support over Telegram
Small capital required
All-in-one Intraday
Honest Stock Marketer is one of the best trading Telegram channels for Intraday Trading in India with 10K+ subscribers. It is an all-in-one channel for intraday because they provide a variety of trading calls on their channels including bank nifty and stock options. Along with tips, they also provide regular updates on calls and tell safe-players to book profit on time.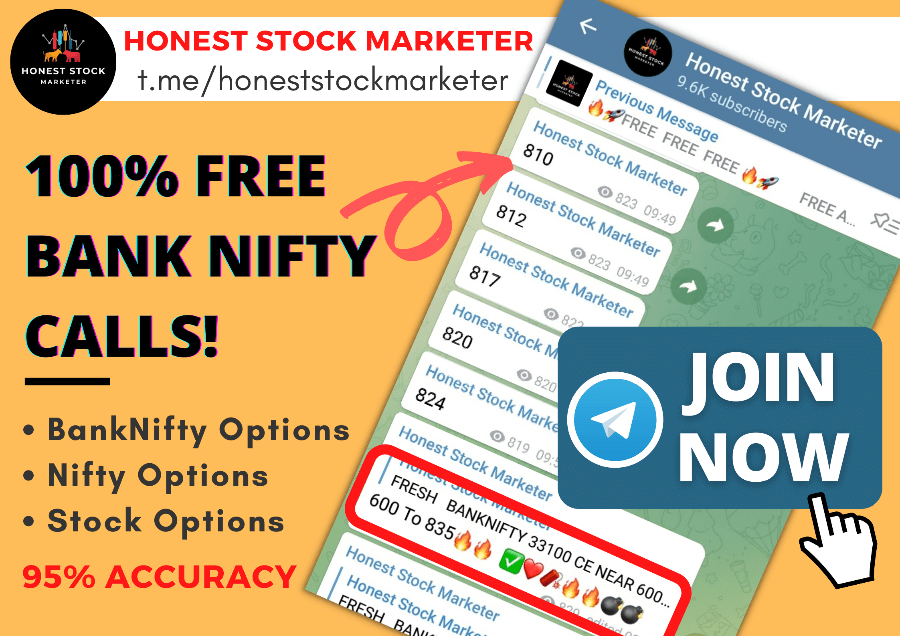 Furthermore, you will get market analysis and predictions on this channel. Along with 1-2 free trading calls, they also provide premium services through WhatsApp that include stock and commodity stock tips as well. Premium Members also get personalized support on Whatsapp.
1-2 free intraday options calls
Capital required: 20-30k
Expiry special hero-zero BankNifty call
Cost-effective premium subscription
I hope you liked the above channels. Still, let's have a look at the best stock market Telegram channels for you as per categories.
Recommended: Top 10 MCX Tips Providers in India to follow!
Banknifty & Stock Options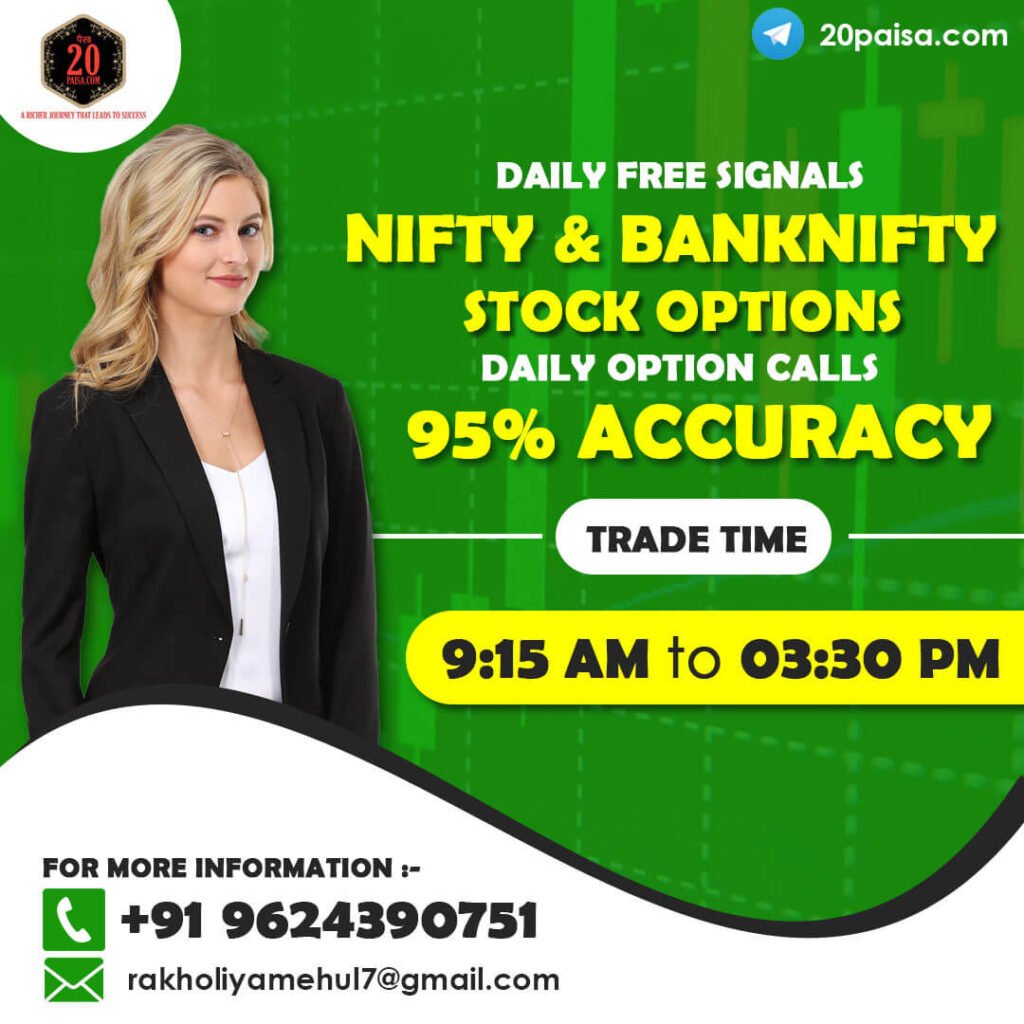 Being the best options trading Telegram channel, BankNifty Specials is one of the best and most popular channels run by 20Paisa.com Admin – Mr. Mehul.
Along with one free banknifty call daily on Telegram, they provide free options tips on Nifty 50 on Telegram channel. One of the best things – they provide proper stop loss and updates on the free calls provided too.
Unlike most channels, they post useful YouTube videos on market prediction and strategies. The channel has around 10k active subscribers as of now. You should join this channel if you do intraday trading.
One free BankNifty call daily
3-4 calls/day in premium group
They claim up to 95% Accuracy
Capital required – just 15-20k
Specialized in Banknifty trading, Bombay Traders is an emerging banknifty channel on Telegram. They are loved for their sure-shot banknifty calls with big targets and small stop losses, for FREE!
Within a short time, the channel has gained 3000+ active subscribers. Along with one demo/free call daily, they also offer premium services to interested traders.
1 free banknifty call daily
Up to 90% accuracy
Big targets with small stop loss
Small capital required
Best for Options Trading
Shree Tech Analysis specializes in options trading – index and stock options. Their free calls often include BankNifty call options with open targets and claim up to 90% accuracy. Along with free services, they also offer premium services that include 2-3 sure-shot intraday tips with personalized support.
This channel is best for beginners because they can avail of premium services by just opening a Demat account with Shree Tech's referral code.
Free; premium services
Open referral Demat account to avail premium service
Small capital required
Customer support over Telegram
Effectively Free
Alpha Research is one of the best telegram channels for share market because they provide a complete package for your short-term and long-term financial needs. From intraday options calls to long-term stock ideas, they provide a variety of services for traders and long-term investors.
While they provide a free BankNifty call daily, their premium services are also effectively free because you just need to open a referred Demat account to avail of the premium services.
A Free BankNifty calls daily
Effectively free premium services
Good risk management
Long-term investment ideas
Recommended: Top 10 Websites for Daily Jackpot Intraday Tips!
Best for Intraday
The National Institute of Financial Management (NISM) is a government institute that gives certification to research analysts. Bulls Bears Traders are one of the best stock market tips providers on Telegram, certified by NIFM.
Premium services include swing trading setups, positional trade ideas, long-term/short-term stock views, and BankNifty trade setups. This makes them the best tips provider for both beginners with small capital and HNIs with big capital.
Free; paid services
Views on the market every morning
24/7 support assistance
Small-capital requirement
Free INTRADAY TIPS TELEGRAM CHANNEL
Stock Tips Intraday is the best Telegram channel for stock market that provides tips on intraday trading. They provide 100% free tips and calls on intraday trading which is quite rare. Unlike most trading Telegram channels, they do not ask users to subscribe to a paid membership. They totally focus on providing high-quality intraday trading tips through Telegram.
The intraday calls provided by them include – BankNifty options calls, futures calls, and stock intraday calls.
100% Free Intraday Calls
No promotional content
Daily 2-3 sure-shot calls with high-accuracy
Low capital required
Best Stock Market Telegram Channels (as per category)
Intraday Trading Telegram Channels
List of 10 best Intraday Telegram channels that provide sure-shot Intraday calls for free!
---
Free Intraday tips daily
High accuracy
Intraday stock calls
Commodity tips
Options Trading Telegram Channels
These channels specialize in options trading – BankNifty and Stock Options.
---
Stock options
BankNifty options
Sure-shot calls
Proper risk management
SEBI-Registered Telegram Channels
Learn the Indian stock market from the Best SEBI-Registered Research Analysts.
---
SEBI-certified analysts
Educational content
Free trading tips
Best Investment ideas
Multibagger stocks
BankNifty Telegram Channels
11 Best & Free Telegram Channels for BankNifty Options with proper risk management.
---
Free BankNifty channels
1-2 free calls daily
Up to 90% accuracy
Small capital required
Positional Trading Telegram Channels
Best Telegram channels for risk-free positional calls based on technical analysis.
---
Short-term positional calls
BTST Telegram Channels
Free & accurate tips
Swing Trading Telegram Channels
List of 7 best swing trading Telegram Channels for price-action-based swing calls.
---
Price-action-based calls
Chart analysis
Short-term calls
Small stop loss, big targets
Stock Market YouTube Channels
Top 10 YouTube Channels to stay updated and learn Indian stock market.
---
Regular market updates
Expert tips and advice
Learn stock market
Pro trading strategies
Crypto Trading Telegram Channels
10 Best Telegram channels in India that provide crypto trading signals for free.
---
Free crypto trading signals
Best crypto tokens
Free channels
Learn crypto trading
Types of Stock Market Telegram Channels
To join the right Telegram channels for the stock market, you should know the different types, allowing you to choose the best one for you!
As per our experience, there are mainly four types of stock market Telegram channels:
1. Intraday Trading Channels
These channels provide intraday stock tips that involve buying and selling stocks on the same day. It is risky and done to earn high profits on the same day. So if you have some experience in trading in the stock market, you can join the intraday trading Telegram channels.
2. Options Trading Channels
Options trading involves buying and selling options contracts – call and put options. It involves high risk as options prices move very fast. They can double your money in one trade within a short time and can also take all your money away at the same time. These Telegram channels provide tips and calls about options – stock options and index options (Bank Nifty, Nifty 50).
3. Investment Channels
Investment telegram channels provide knowledge about different equity shares listed in the stock market. They provide investment tips for medium-term and long-term periods of at least 3 months. These channels are safe and involve low-to-moderate risk.
4. Positional Trdaing Channels
Positional trading refers to trading that is done with the motive to earn profits and not investment. It is based on the price movement of shares. It can be short-term or long-term depending on the price movement of the stocks. Positional trading Telegram channels anticipate the stock price movement and provide calls when a share is expected to give an up move in the future.
Who Should Join Telegram Channels For Stock Market Trading?
No matter if you have trading prior experience or not, everybody should join these Telegram channels.
Are you a newbie? You'll get to learn how to trade.
Are you an intermediate? You'll get updates, tips, and calls to boost your trading skills.
Are you an expert? You'll get a huge platform to share your knowledge with others and earn decent money also.
So you can join any of the above best telegram channels for the share market as per your preferences or requirements, all of them are authentic as per my knowledge. But as I have listed many channels, you might be still confused about which one to subscribe to.
That's why I am sharing some secrets about Stock Telegram channels that nobody will tell you, they will help you identify good and bad channels.
How to know if a stock market telegram channel is good?
Good Telegram channels follow a group of specific traits that make them the best and different from other fake stock trading channels. Some of these traits are – success rate, views to subscribers ratio, quality of calls, percentage of promotion, and more.
Besides the above-mentioned best Telegram channels for the share market, if you want to join other best stock market channels or have joined any channel and you are confused that you should rely on it or not, then check out the below-mentioned qualities of an authentic Telegram channel:
1. Judge Views (Not Subscribers)
Don't judge a channel by the number of subscribers. If you search terms like 'stock market' or 'intraday' on telegram, you'll get a lot of channels on your screen with subscribers in lakhs. Are they good? No, most of them are manipulating the audience and most people also get fooled by measuring the authenticity of a channel by the number of subscribers.
Instead, you should check the number of views on the posts, if views are very less compared to the number of subscribers, chances are they are fake subscribers and you're on the wrong channel.
2. They Don't Hide Failures!
Like a share never rises consistently, no matter how expert you're at trading, you also can't earn consistent profits without incurring losses.
Good channels don't hide losses, they stay honest. If you see only profits in a channel without any loss, something is wrong with that channel!
3. Open Identity (Transparency)
An admin of authentic channels won't hesitate to show their identity and interact with the channel members. Kindly don't blindly take calls or paid subscriptions from a channel that doesn't provide you with a way to contact or message them.
4. Proper Stop-loss and Targets
I see a lot of options trading Telegram channels that share calls without an SL and mention it as paid, which is not a good thing to do, and you should never take these calls. First thing, options are risky, and without SL, they're riskier.
A good trading Telegram channel won't give calls without SL and targets, they would never want their subscribers to suffer losses.
5. They Like to Share Their Knowledge
When you're passionate about something, you don't hesitate to share it with others.
Likewise, an expert trader or Telegram channel won't hesitate to share their knowledge with channel members. They'll predict the levels of stocks and indices and will freely share them with you.
6. No or Minimal Stress on Paid Services
The main aim of a good stock market Telegram Channel is to build a personal brand by sharing expert knowledge so that they don't have to ask people to buy paid services, rather people ask them to provide paid personalized services.
Channels that run behind you to buy paid services might not be good.
Conclusion
Any person can make money by trading in the stock market, you just need good financial advice and knowledge.
I hope you have found the best telegram channel for the stock market for you from the above-listed telegram channels. I recommend everybody especially beginners to join the above channels instead of trading on their own without proper strategy.
Still confused? Contact us to know which channel is best as per your trading or investment needs.
Disclaimer: Trading involves risk, the channels listed in this post are just for knowledge and educational purpose. Some listed channels may sell paid services along with free services. I would not be liable for any kind of loss incurred.
Do you provide stock market tips on Telegram?
Contact us to get your channel listed.