Disclaimer: This post is for educational purposes only, contact your financial advisor before trading.
Telegram has become a great and free source of knowledge in recent years whether it is education or the stock market.
If you're looking for the best Telegram channels for the Indian stock market, your search ends here!
We have filtered and listed some best telegram channels/groups that can provide you with high-quality knowledge about the stock market and some trading tips as well.
Here are the Top 10 Best Stock Market Telegram Channels In India:
Best Stock Market Telegram Channels/Groups with Links
Led by SEBI-registered research analyst – Dr. Seema Jain, StockPro is the best and free Telegram channel for the stock market. Along with providing paid stock market courses, they also provide free stock market knowledge and tips on their official broadcast channel on the Telegram App.
Being the best overall stock tips Telegram channel, they share a variety of stock market content and knowledge including trading calls, YouTube videos, strategies, market trends, chart analysis, and free webinars, making StockPro the best overall channel for the stock market.
One of the best things about them is – They provide trading calls on quality stocks only. Moreover, they provide exact entry levels for many stocks daily. So you should join this channel if you want to learn about the stock market and make money.
Free trading calls with accurate entry-levels
Educational video content
Live trading through webinars
Regular multi-bagger stocks
Recommended: 10 Best SEBI Registered Telegram Channels for 2023!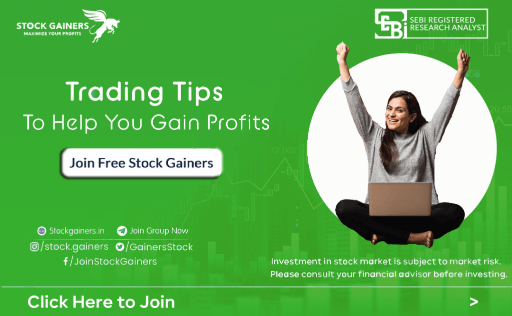 Usha's Analysis is one of the best telegram channels for options trading in the stock market space. They provide a variety of investment and trading ideas daily – short-term stock ideas, FnO trading tips, long-term investment ideas, swing trading tips, and more. Their daily 2-3 free calls include – positional and intraday trades.
Being a share market Telegram group, They can also assist you in managing and growing your stock portfolio as per your investment and trading needs. Moreover, they also serve investors and professionals that can not sit in front of the trading screen all the time.
Free; paid services
Best for both small investors and HNIs
Portfolio management services
BTST trade ideas
Recommended: Top 7 Stock Market Advisors in India you should know!
As the name suggests, BankNifty Masters is a great intraday trading Telegram Channel where you will get index and stock option trading calls.
Along with 2-3 sure-shot trading tips, you will get regular updates on the market conditions, important trading levels, and other forecasts.
Best of all, you will get high-quality calls with exact targets and stop-loss. They also provide premium subscription-based services to interested stock market traders.
1-2 free BankNifty calls daily
Up to 85% Accuracy
Transparent reports on P&L daily
Premium service with personalized support is available.
Recommended: Top 10 Investment Advisors on India [SEBI-Registered]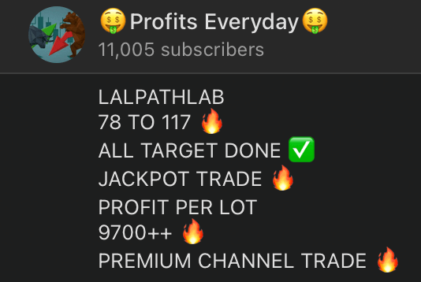 Profits Everyday is a renowned Telegram Channel for the Indian stock market with 11k+ active and genuine subscribers who follow their advice and reportedly earn regular profits as well.
Stock market tips by Profits Everyday are not based on assumptions. They have experts that do proper technical analysis before posting calls on the Telegram channel.
Along with calls, you get updates on when to book profit or loss or hold a trade.
Free; paid services
Recover fees within 2-3 profitable trades
Personalized support over Private Telegram Group
Small capital required
Honest Stock Marketer is one of the most active and best trading Telegram channels for Intraday Trading in India with 10K+ active subscribers.
They provide a variety of stock market trading tips, calls, and updates during market hours.
The thing we liked is – Experts at Honest Stock Market take care of stock market beginners and tell them to safely book the profits on time and not lose money in the market.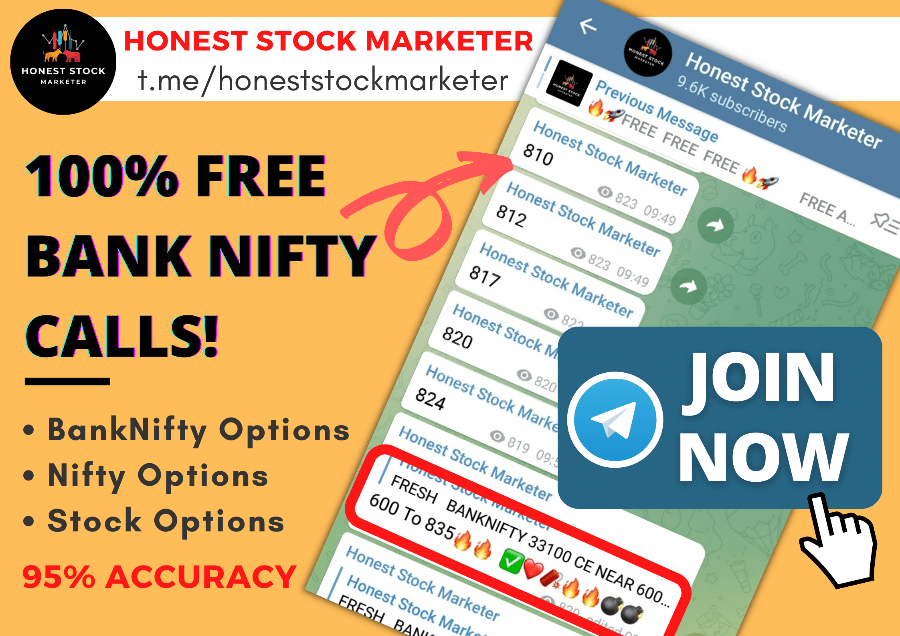 If you're looking for premium and custom service, Honest Stock Marketer can be a good option as they also offer premium WhatsApp-based stock market services.
1-2 free intraday options calls
Capital required: 20-30k
Expiry special hero-zero BankNifty call
Cost-effective premium subscription
Recommended: Top 10 MCX Tips Providers in India to follow!
The National Institute of Financial Management (NISM) is an institute run by the government that certifies stock market researchers and analysts. Bulls Bears Traders are certified by NIFM and provide the best stock market tips through their Telegram channel.
If you're interested in paid calls, their premium services include swing trading setups, positional trade ideas, long-term/short-term stock views, and BankNifty trade setups. This makes them the best tips provider for both beginners with small capital and HNIs with big capital.
Free; paid services
Views on the market every morning
24/7 support assistance
Small-capital requirement
A Telegram Channel that is known for its professional and accurate trading calls. They specialize in banknifty and nifty index options trading and provide one free trading call daily.
The channel is rapidly growing in popularity and has gained around 6K active subscribers within a short period. That's maybe because of their accurate stock market tips and transparent services.
1 free banknifty call daily
Up to 90% accuracy
3-4 calls in premium service
Right entry and exit levels
Shree Tech Analysis specializes in options trading – index and stock options. Their free calls often include BankNifty call options with open targets and claim up to 90% accuracy. Along with free services, they also offer premium services that include 2-3 sure-shot intraday tips with personalized support.
This channel is best for beginners because they can avail of premium services by just opening a Demat account with Shree Tech's referral code.
Free; premium services
Open referral Demat account to avail of premium service
Small capital required
Customer support over Telegram
Alpha Research is one of the best telegram channels for the share market because they provide a complete package for your short-term and long-term financial needs. From intraday trading to long-term stock ideas, they provide a variety of services for traders and long-term investors.
While they provide a free BankNifty call daily, their premium services are also effectively free because you just need to open a referred Demat account to avail of the premium services.
A Free BankNifty calls daily
Effectively free premium services
Good risk management
Long-term investment ideas
Recommended: Top 10 Websites for Daily Jackpot Intraday Tips!
Shree Ganesh Stocks is the best Telegram channel for stock market that provides tips on intraday trading. They provide 100% free tips and calls on intraday trading which is quite rare. Unlike most trading Telegram channels, they do not ask users to subscribe to a paid membership. They totally focus on providing high-quality intraday trading tips through Telegram.
The intraday calls they provide include – BankNifty options calls, futures calls, and stock intraday calls.
100% Free Intraday Calls
No promotional content
Daily 2-3 sure-shot calls with high-accuracy
Low capital required
Bottom Line
Any person can make money by trading in the stock market, you just need good financial advice and knowledge.
I hope you have found the best telegram channel for the stock market for you from the above-listed telegram channels. I recommend everybody especially beginners to join the above channels instead of trading on their own without proper strategy.
Still confused? Contact us to know which channel is best for your trading or investing needs.
Do you provide stock market tips on Telegram?
Contact us to get your channel listed.