89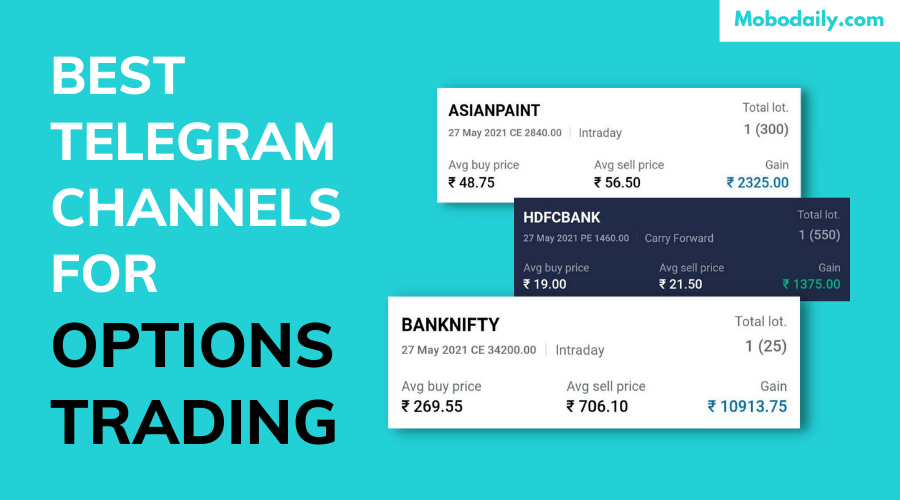 If you trade options, you can earn huge profits in a day and also can incur heavy losses if you don't have knowledge and expertise.
But thanks to the Telegram, many free best stock market telegram channels provide expert intraday and options trading knowledge, calls, and tips. But most of the stock market telegram channels just focus on selling paid services and don't provide you option tips and calls for free.
In this post, I have mentioned more than 10 best options trading Telegram channels that will provide you expert option calls and tips. Most of these channels are focused on options trading only, they just give calls related to NSE, BSE stocks, and index options like Nifty and Bank Nifty.
Be assured! I have personally tested calls, tips, and knowledge shared by these channels and then mentioned them on this list. Admins of these channels have years of experience in options trading, they're trusted and you can rely on their calls and tips.
Best Options Trading Telegram Channels India
If you search options trading in the Telegram app, you'll find many channels with a large number of subscribers. Most of those channels ain't good!
Don't judge the quality of a Telegram Channel with the number of subscribers, an option Telegram channel with just 100 subscribers can help you earn huge profits and a channel with 200k subscribers can eat all your capital.
Below are some India-based Telegram channels that have years of experience in options trading and provide good calls, tips, and knowledge.
👉 More Best Telegram Channels For Options Trading…
---
Best Telegram Channels For Bank Nifty Options Trading
We can also trade in Index Options at NSE – Nifty 50 and Bank Nifty. As the name suggests Nifty Bank consists of all popular banking stocks in India like HDFC Bank, ICICI, AXIS, KOTAK, and others.
I don't know why 🤷 but Nifty Bank is the most popular index for options trading in India and some free best stock market channels on Telegram that specifically trade in Bank Nifty.
These are some best Telegram channels that trade in Bank Nifty Options and give free call and put options tips and calls.
---
Some Dos and Don'ts of Options Trading
Dos:
Only take calls given by analysts and experts.
Follow stop loss and targets strictly.
Expect loss in options as much as you expect profits.
Take and test demo calls before subscribing to paid services.
Consistently watch an option call after taking it.
Be patient.
Don'ts:
Don't trade on your own.
Don't invest all your capital in one call.
Don't take multiple calls at the same time.
Don't greed and exit once the target is achieved.
Don't expect huge profits in options trading.
Bottom Line
Options Trading can give you decent profits if you have technical knowledge of the stock market. If you're a rookie, then don't trade on your own, you will incur heavy losses.
Options trading is much different than stock trading. In options, you can double or triple your money in a few hours and can also lose all of your capital at the same time. While in stocks, there are very minimal chances that you'll lose all of your capital.
That's why newbies should not trade on their own. And Telegram is a great and free platform where you can connect with expert stock market analysts and take advantage of their expertise. Some of the channels that I have mentioned above also offer paid option calls and personalized services, and you can rely on them, you'll recover the fees within a few trading sessions by taking their calls.
Note: Trading in the stock market involves risk and the below channels are for knowledge purposes only, I won't be liable for any kind of loss incurred.
Do you own or manage an awesome Telegram channel for Stock Market? If yes, submit the channel details below.