Today, I have listed 10 Best Mi Band 4 Custom Watch Faces which are selected after personal use based on usability and functionality.
These display faces are selected from Amazfitwatchfaces.com and I have also added the links to them.
Note: These watch faces are selected based on my personal preference, not by any other official authority or entity.
So, let's get started!
1. Red And Black Modern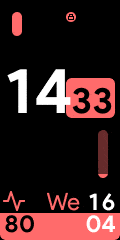 One of the best watch face in case of simplicity and functionality.
The main highlight of this watch face is its minimalistic design, not rushy like other watch faces, and doesn't compromise on functionality.
It is available in 3 color options – Red, Pink, and Teal.
Features:
Step progress bar
Battery Bar with low battery indication
Includes day and date
Heart rate indication
DND, Lock, and Bluetooth icon
Multilingual
Also Check out: 7 Best Minimal Watch Faces for Mi Band 4.
[adinserter block="6″]
---
2. Simple v28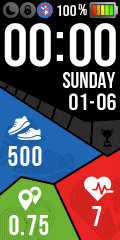 As the name says this Mi Band 4 Watch face is Simple and Beautiful.
This Watch face is my personal favorite because of its functionality and the finest use of colors.
It is comprised of everything an ideal watch face should have.
Features:
Consist of Punchy RGB Colors.
DND, Lock, and Bluetooth icons on the Top.
Includes Steps, Distance, and Heart rate.
Includes Goal Indication.
Shows Battery Percentage.
Comprises the Day with date and month (mm/dd format)
Woah! That's a lot of features, right?
[adinserter block="7″]
---
3. Forced Square
This watch face is for the users who want a Minimal Design and Big-time display.
This regularly updated WF is available has more than 100 variations, so you can choose what you prefer.
Pretty awesome, right?
Features:
DND, Lock, and Bluetooth icons
Battery Percentage with bar
Day and date (dd/mm format)
Steps and Heart rate
Multilingual
4. Pebble
If you are a fan of digital watch faces then this watch face is for you. It is available in 5 color options, the blue one is my favorite.
Decent and pretty, right?
Features:
Battery indicator with Percentage
24 hours time format
Heart rate data
Step Count
Multilingual
[adinserter block="8″]
---
5. Fit Ops v12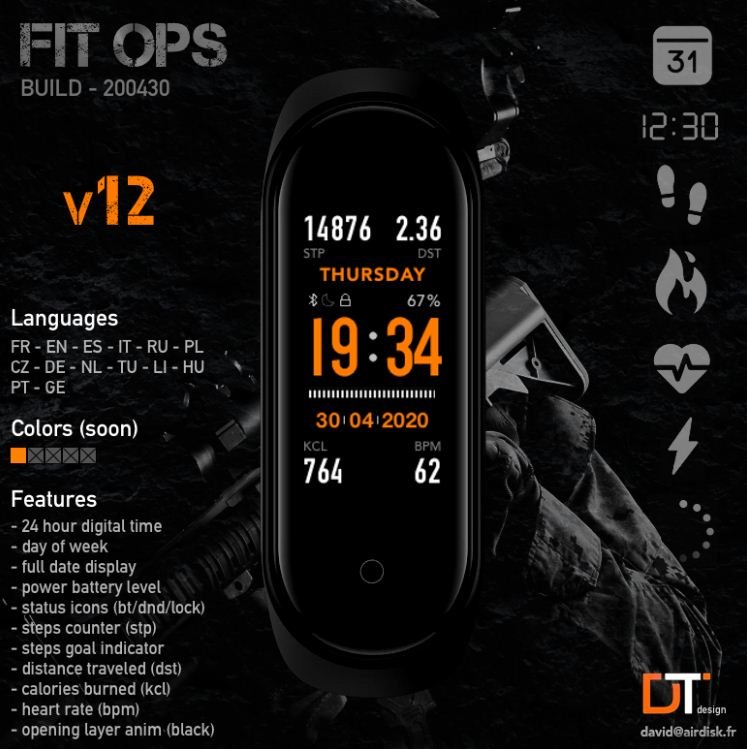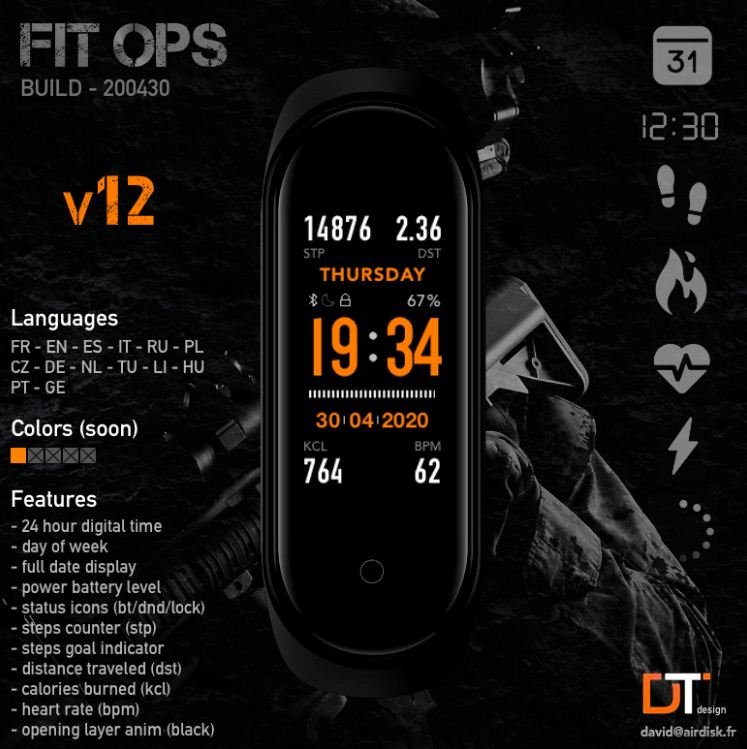 I don't think the developer of this watch face has left something, right?
From time to heart rate and calories, it consists of everything Mi Band 4 can show. It's available in five color options and 14 different languages.
Insane!
Refer to the above image for the features.
6. What To Do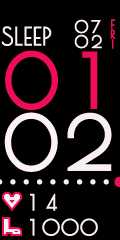 Finally, we have found a Watch Face which tells you what you should be doing based on time but also has limits.
Features:
3 Colour options – Rose, Teal, and Yellow.
DND, Bluetooth, and a lock icon on top.
The Battery is represented by the Circles below the hours and minutes.
It also includes the Day with Date and month (dd/mm format).
[adinserter block="9″]
---
7. One+ Red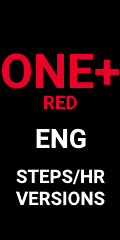 This watch face for the OnePlus lovers.
This watch face is inspired by the OnePlus ambient display with hours in red and minutes in white color.
It has 2 variations – heart rate and step goal percentage.
Features:
Day with Date
Battery Percentage with bar
Heart rate or Goal indicator
12 hours time format
Only in English (check another multilingual version)
8. Pip-Boy
The Pip-Boy walking in the middle of the watch face caused us to put it into the list. This watch face is one of the best because of its uncompromised functionality.
It reminds you to walk and be active!
Features:
4 color options – Cyan, White, Green, and Orange.
Consist of Weather Logo.
Battery Percentage and Charging Indication.
Heart rate, Steps, and Distance data.
Sounds cool, right!
9. Smart Digital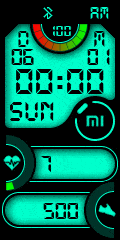 Perfectly suits the name 'Smart Digital', smartness with beauty!
No matter how much we praise, it will be less for this watch face. Well designed with a variety of indications is the reason for being listed.
Features:
24 hours time format
Day and Date well structured
Battery percentage with bar
Shows Heart rate and Step data
Heart rate with bar
Step count with the progress bar
Pretty smart! What do you say? Tell me in the comments below.
10. ERLE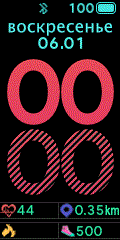 This watch face is Old but still most Popular among other watch faces.
We selected this watch face because of its Huge Time Display and variety of color options.
Features:
Unbelievable 9 Color Options
Consists of Huge Time Display
Day and date
Comprise of Heart rate, steps, and distance data
What's your favorite watch face? Share the link in the comments below. Peace.