Lap desk or Laptop Table – the most needed thing when you work on your laptop for long hours. There are tons of Laptop desks available online, which one you should buy?
Don't worry! I will guide you to buy the best laptop desk for you.
Today, I will tell you 5 things you should consider before buying a Lap desk.
I have also listed the 5 Best portable and adjustable Lap desks to buy online.
So, stay tuned and read the full post! The first point to consider is…
Use and Function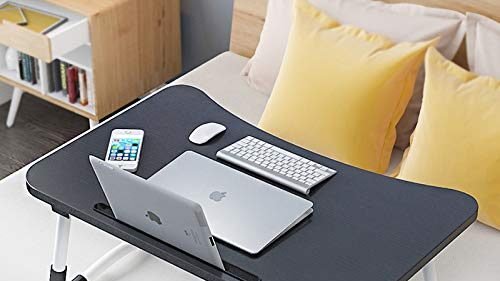 Where do you use your laptop the most? – on the bed or couch or the table?
If bed, then go for this best lap desk for bed. If couch, then you should buy this best lap desk for the couch.
If you wanna place the lap desk on your table, then you don't need a leg-stand beneath the desk's surface.
Do you need a storage compartment? to store small things like a pen-drive, mouse, etc. then go for a lap desk with a drawer.
Size and Weight
What is the size of your laptop? If it's 13-15 inches then a compact lap desk will be good or vice-versa.
What you wanna place on the laptop table? Only laptop & mouse or also other accessories like keyboard, tablet, etc.? Check out this foldable laptop table.
The weight of the laptop table shouldn't be more than 1.5 kg if you place it on your lap otherwise it will feel heavy on your thighs.
If you'll place the lap desk on a surface, then you can buy a heavy and sturdy laptop table.
Portability and Adjust-ability
Do you travel a lot? If yes, then you should look for a compact lap desk that is portable and easy to carry anywhere. Check out this compact lap desk.
Lap desks with adjustable height are also trending nowadays. You can adjust the height of these lap desks according to your need. Check out this best adjustable laptop table.
Comfort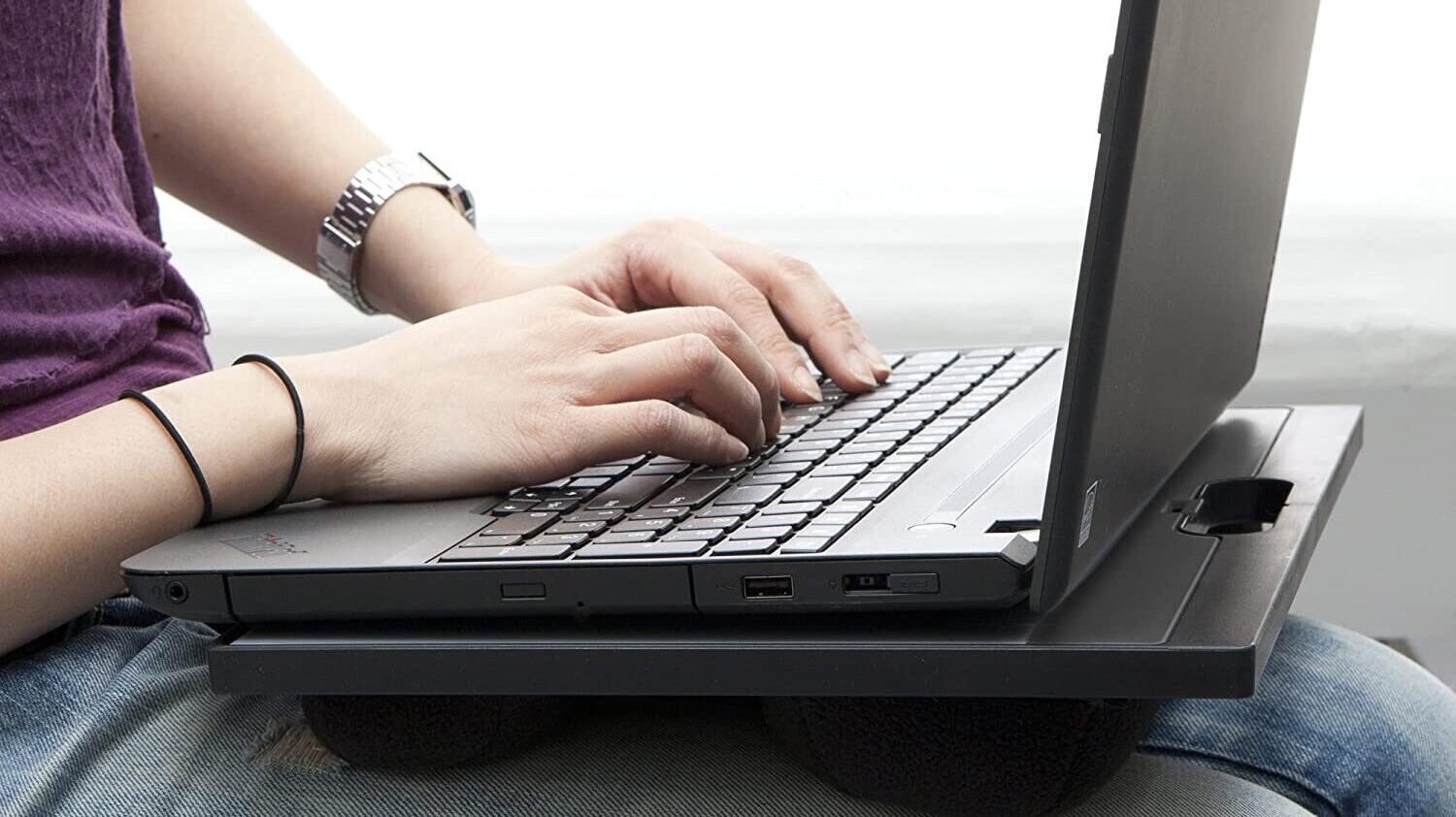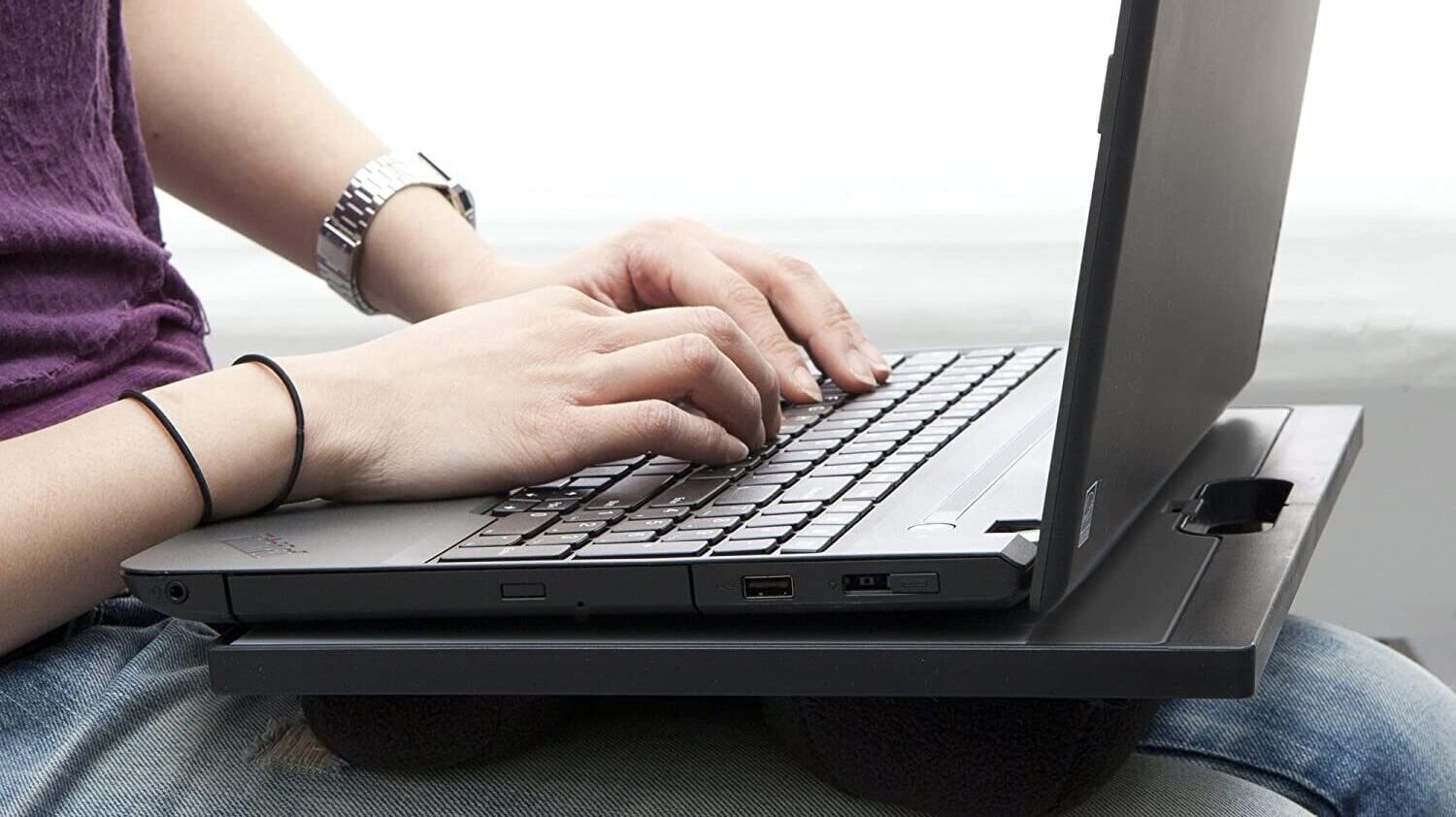 Why are you buying a lap desk? – Of course for comfort-ability!
Nowadays, lap desks with a cushion beneath the surface are very popular. It allows you to use the laptop for long hours. If you place the laptop on your lap then buy a lap desk with a cushion.
Check out this lap desk with extendable feet which gives an angled position to your laptop so your hands don't get tired while using the laptop.
Durability and Sturdiness
Make sure it's your last purchase!
The material of the lap desk should be good enough so you don't have to buy a second one.
A lap desk should be made of durable plastic or wooden material. Don't buy those lap desks made of cheap material.
Some companies also produce lap desks made of metal but they can store heat after long usage, so don't buy a lap desk made of metal.
---
So, let's have a look at some best lap desks I have chosen for you.
Product Image
Lap Desks
Amazon Link
1. Foldable Wooden Laptop Desk for Bed
Dimensions: 20 x 15 x 6 cm; 2.88 Kilograms
View on Amazon
2. Callas Adjustable Portable Laptop Table
Dimensions: 52 x 30 x 10 cm; 1 Kilogram
View on Amazon
3. IBS Brown Laptop Table with Drawer
Dimensions: 60 x 30 x 22 cm; 3 Kilograms
View on Amazon
4. Mind Reader Laptop Desk with Cushion
Dimensions: 28 x 37 x 6 cm; 885 Grams
View on Amazon
5. Kurtzy Multipurpose Portable Laptop Study Table Desk
Dimensions: 38 x 36 x 10 cm; 4.58 Kilograms
View on Amazon
Top 5 Best Laptop Desk/Tables in India
1. Foldable Wooden Laptop Desk for Bed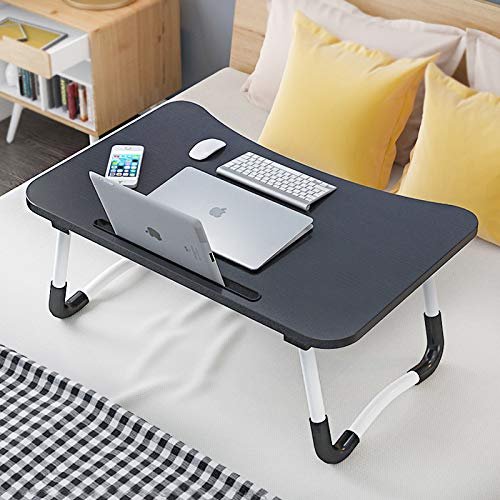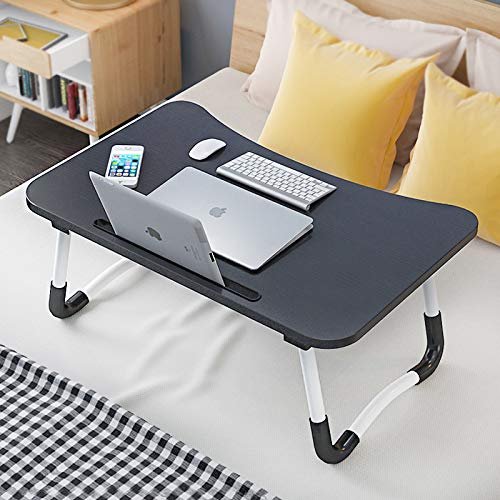 Durable and Sturdy structure: Made of powder-coated metal tubes and high-quality Engineered Wood top board.
Multi-purpose table/desk: Not only laptop table but also as a TV Dinner Tray, serving table for patients/kids, Book Writing Desk for kids, Standing Desk/Stand Up table
Healthier Working: It frees from disorders such as backache, neck pain, and stiffness caused by sitting long hours in the same posture.
Durable Structure: Sturdy and scientific construction as it can afford heavy items ( like printers, laptops, and desk organizers ) but occupy small areas.
True Engineering: This table comes with anti-slip rubber at the bottom and an additional tablet holder slot in landscape mode.
Warranty: Comes with 3 months manufacturing warranty.
---
2. Callas Adjustable Portable Laptop Table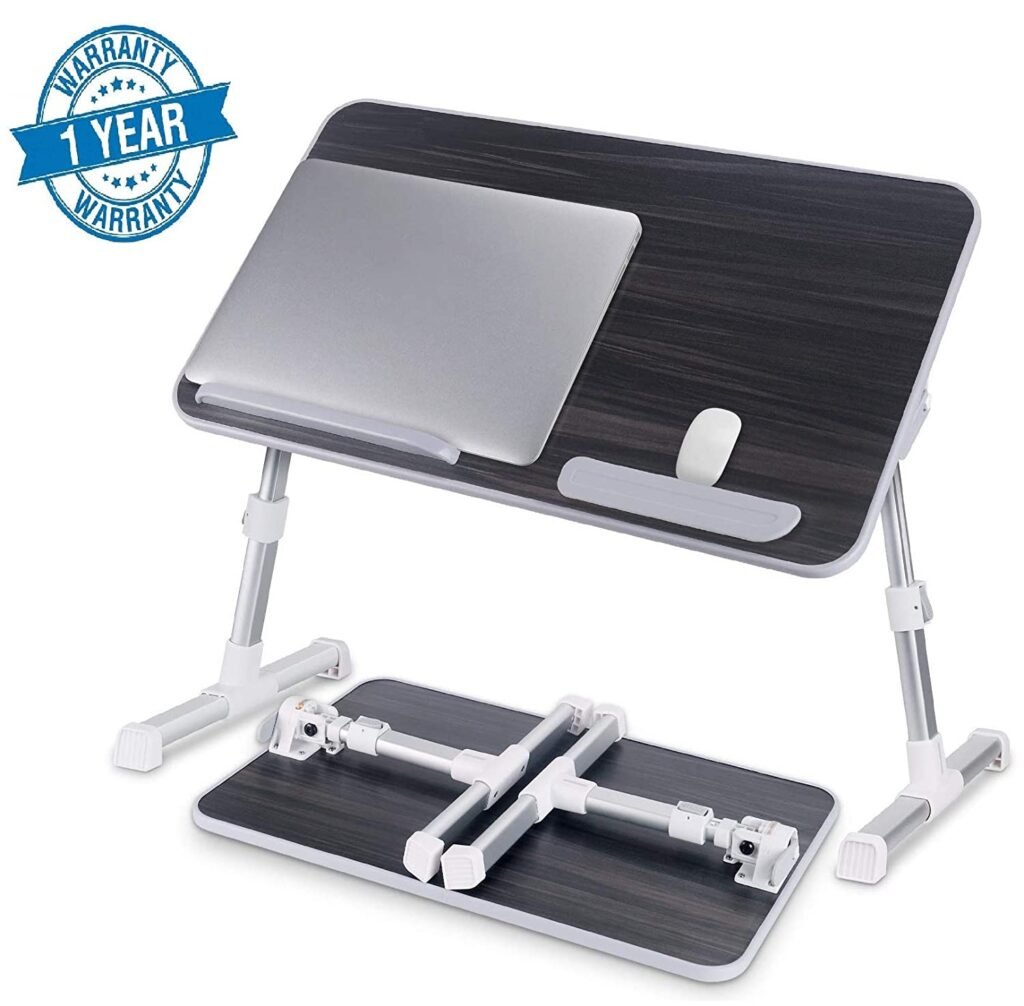 Elegant Portable: Very attractive design and finish. Legs can be folded completely to make them highly portable.
Strong and adjustable: Vertical Extension of Legs and Angular Adjustments (0-30 degrees) of Top, it has Soft Notches given on one side of the flat-top to prevent things from rolling down when tilted
Compatible: Size and strength ensures that all Laptop Models can be mounted on it, separate place to keep mouse with mouse-pad
Cleanliness and anti-dust: Smooth Top can be wiped with moist Clean Cloth without damaging the top
---
3. IBS Brown Laptop Table with Drawer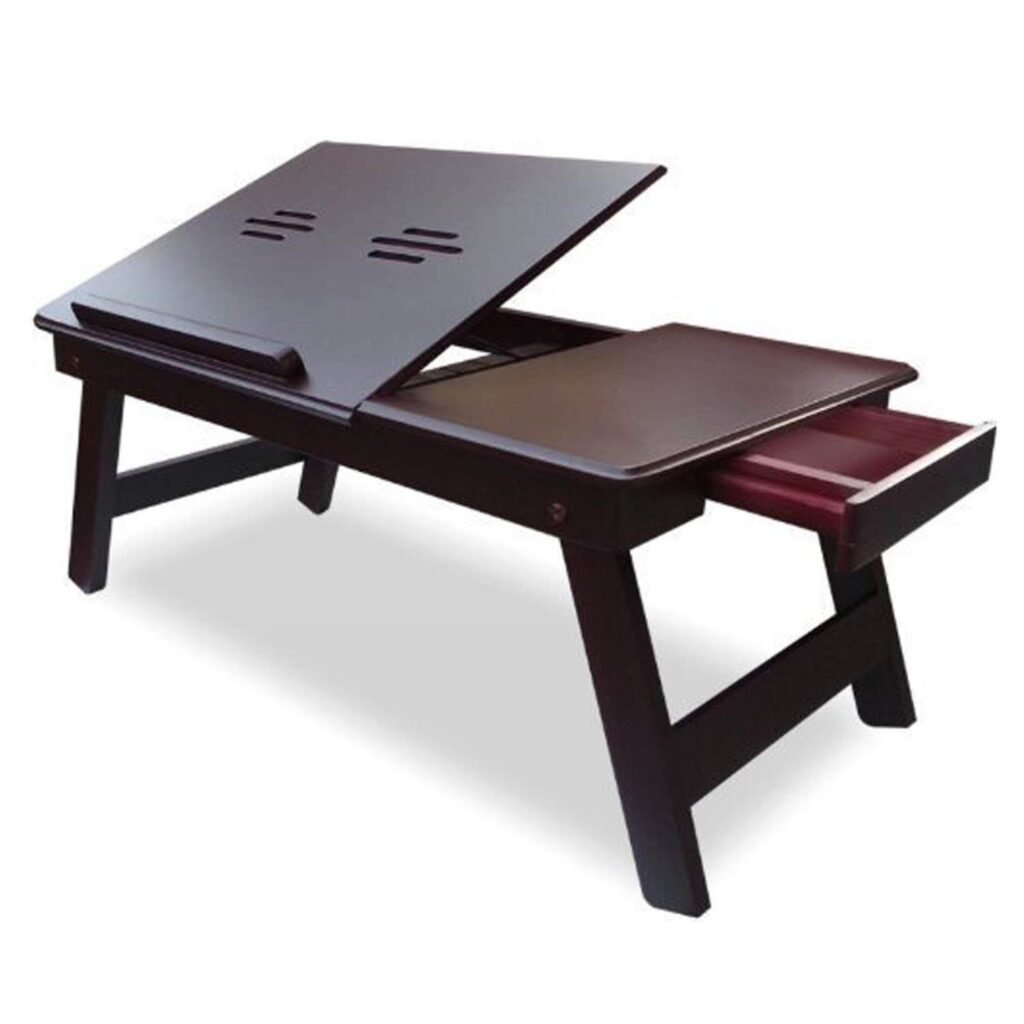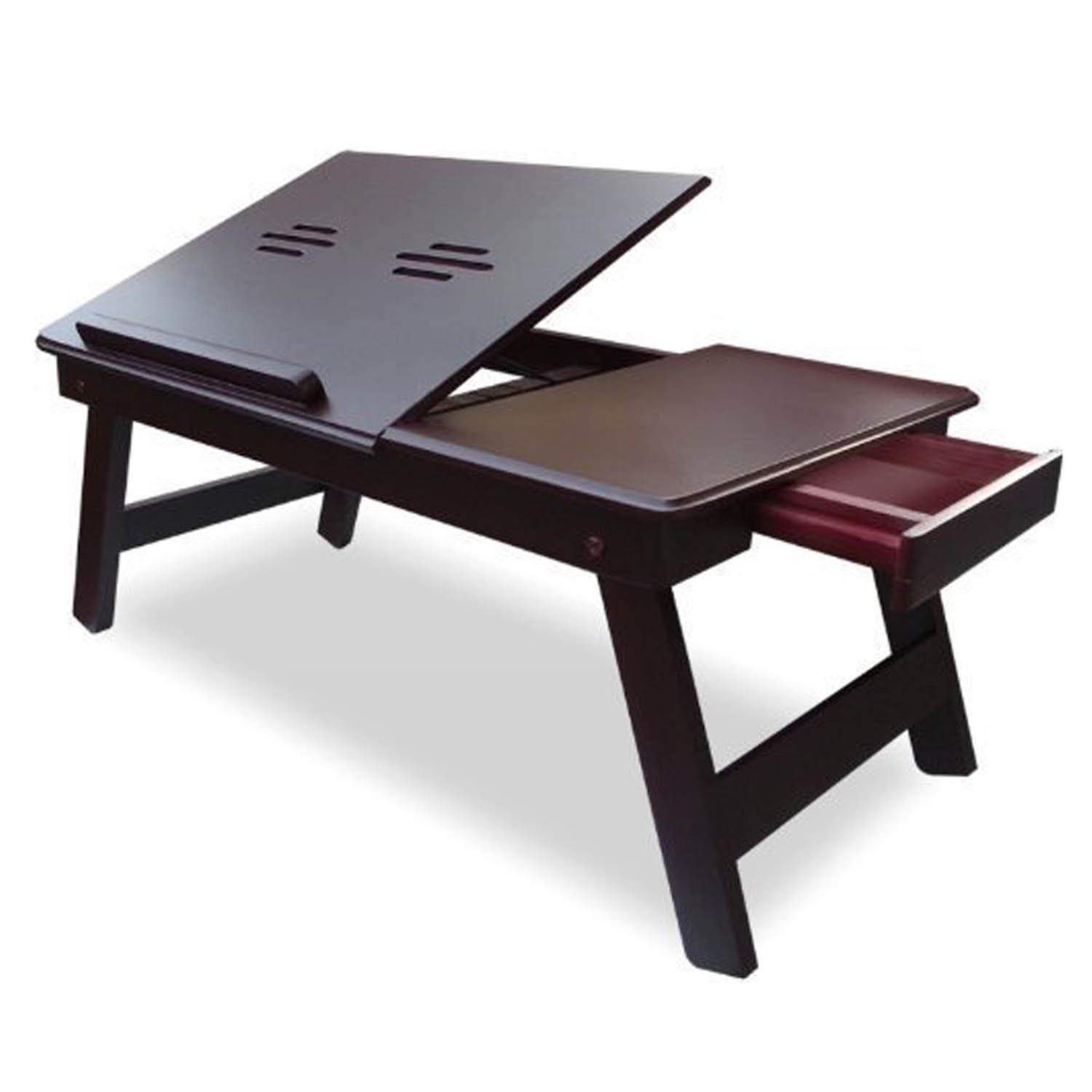 Portable and Foldable Wooden Laptop and Notebook table.
Flexible and comfortable, it can be carried anywhere.
Adjustable height and angle with a lock design feature.
Versatile: Can be used for Laptop, Reading, Eating, etc.
Totally portable: Compact design and easy folding table.
---
4. Mind Reader Laptop Desk with Cushion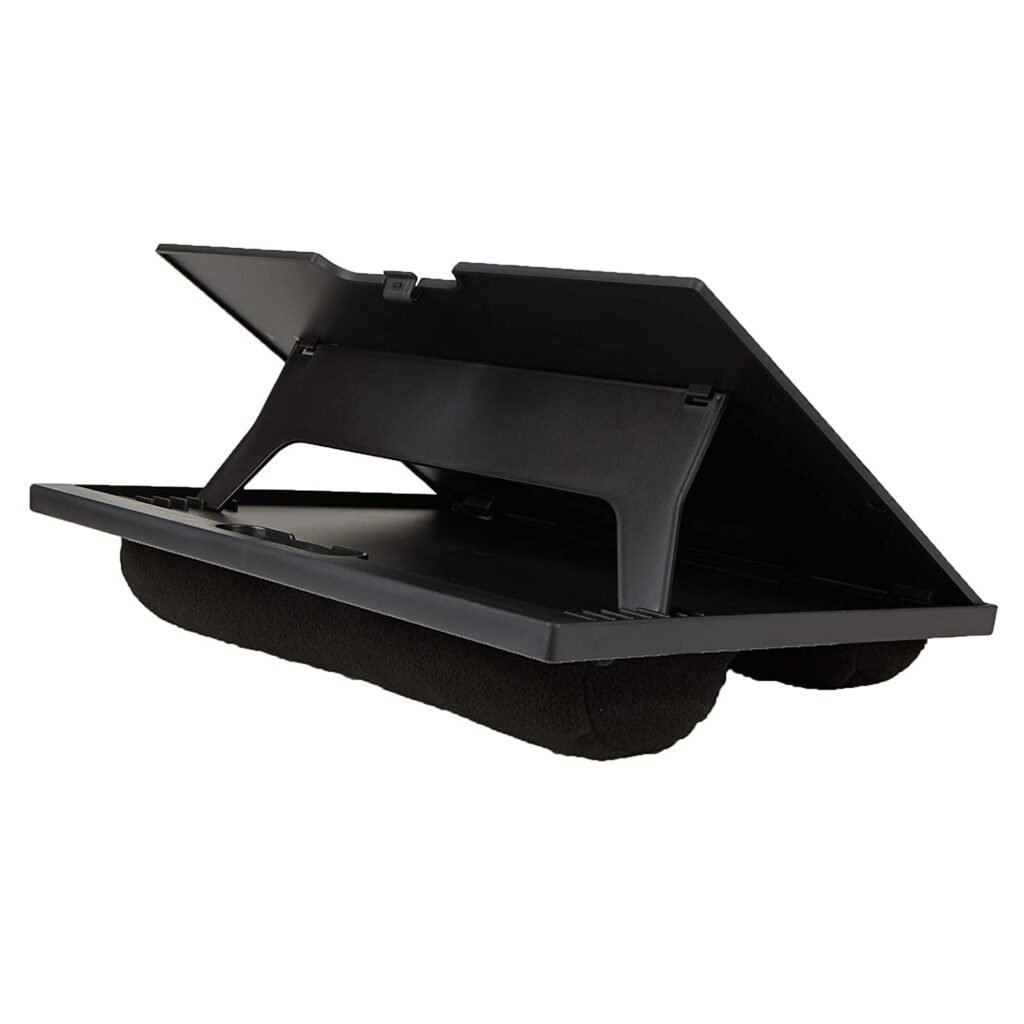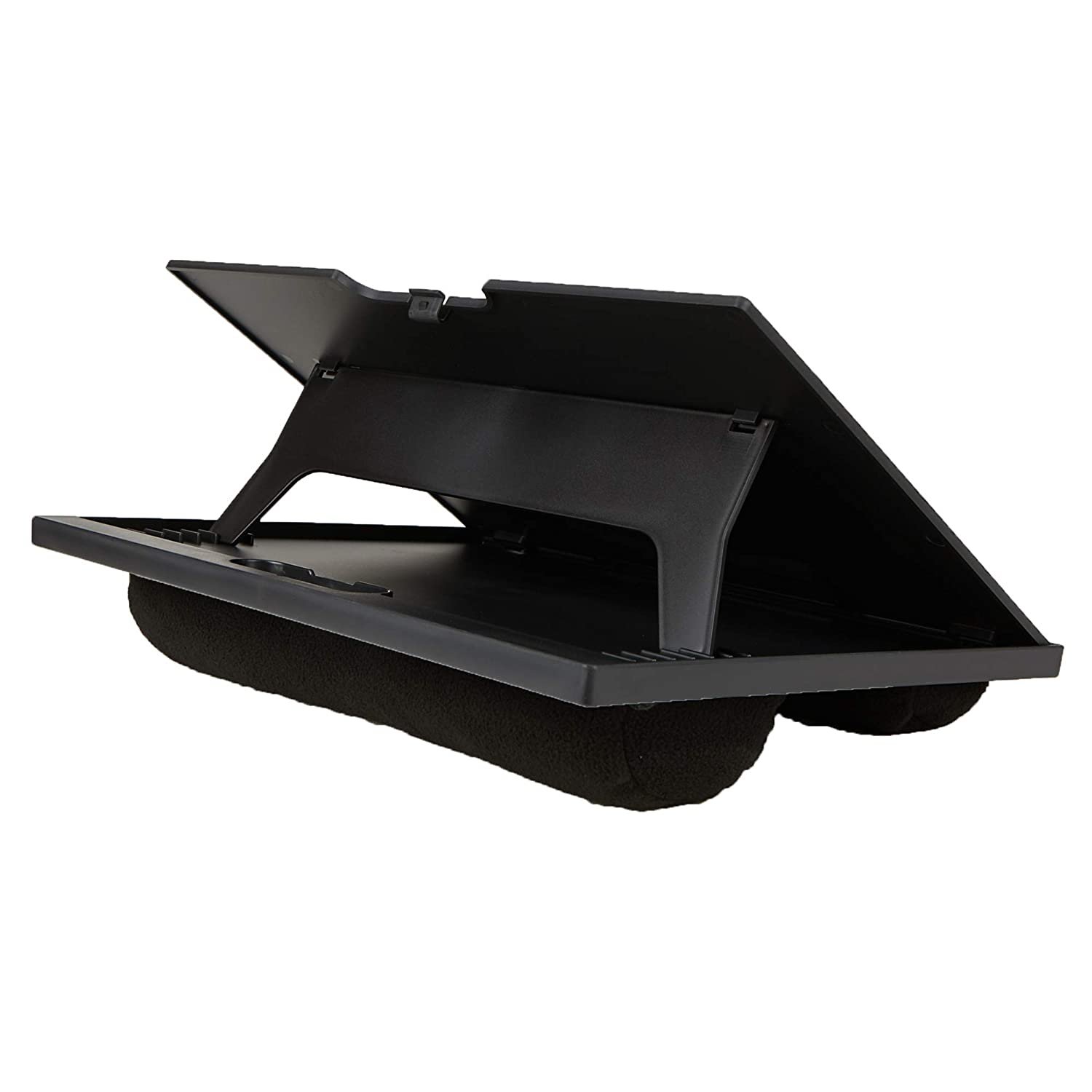 Compatibility: Compatible With Laptops and Tablets up to 15.6 inches
8 Angle Options Lock
Comfort: Dual-bolster pillow support and comfort
Versatile: 8 Position Lap Top Desk Table Helps to Reduce Neck and Back Pain While You Study, Work, Read, or Enjoy Entertainment.
Portable and adjustable tray-table
---
5. Kurtzy Multipurpose Portable Laptop Study Table Desk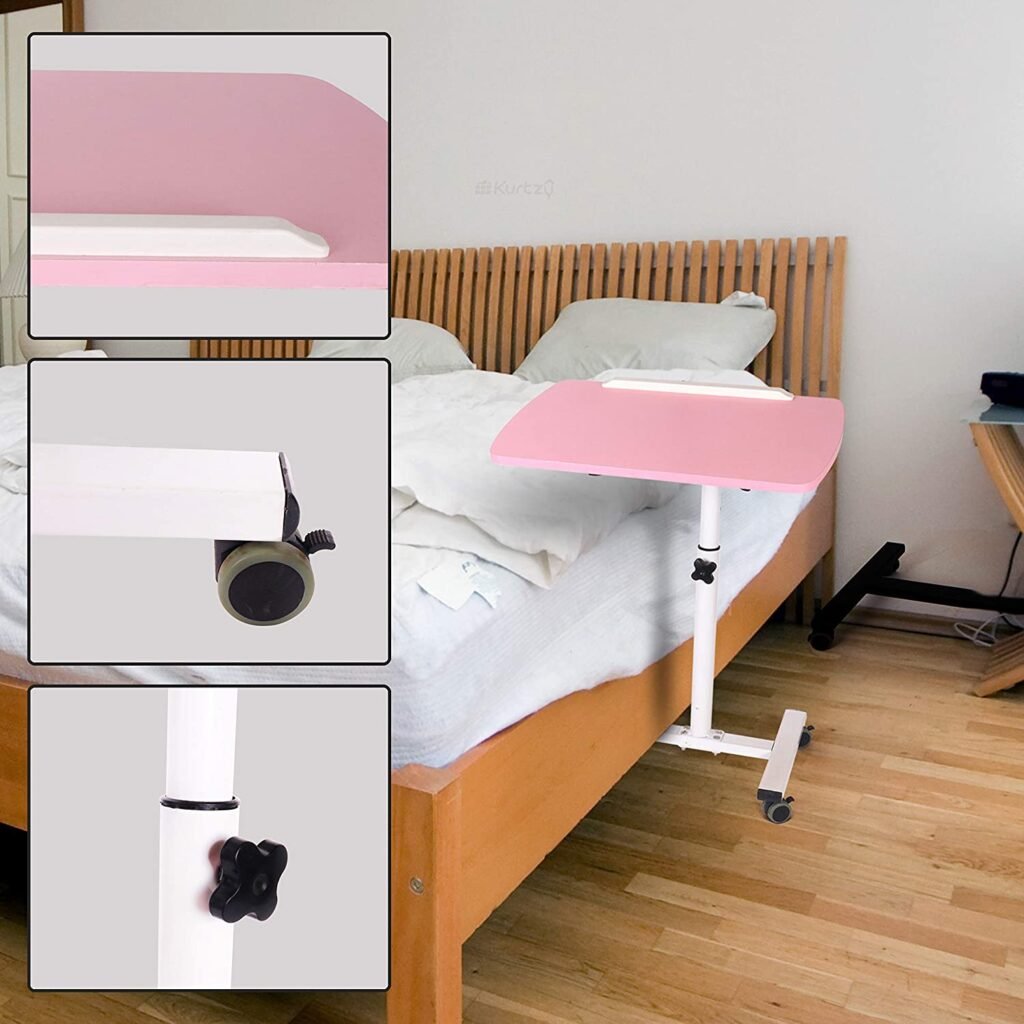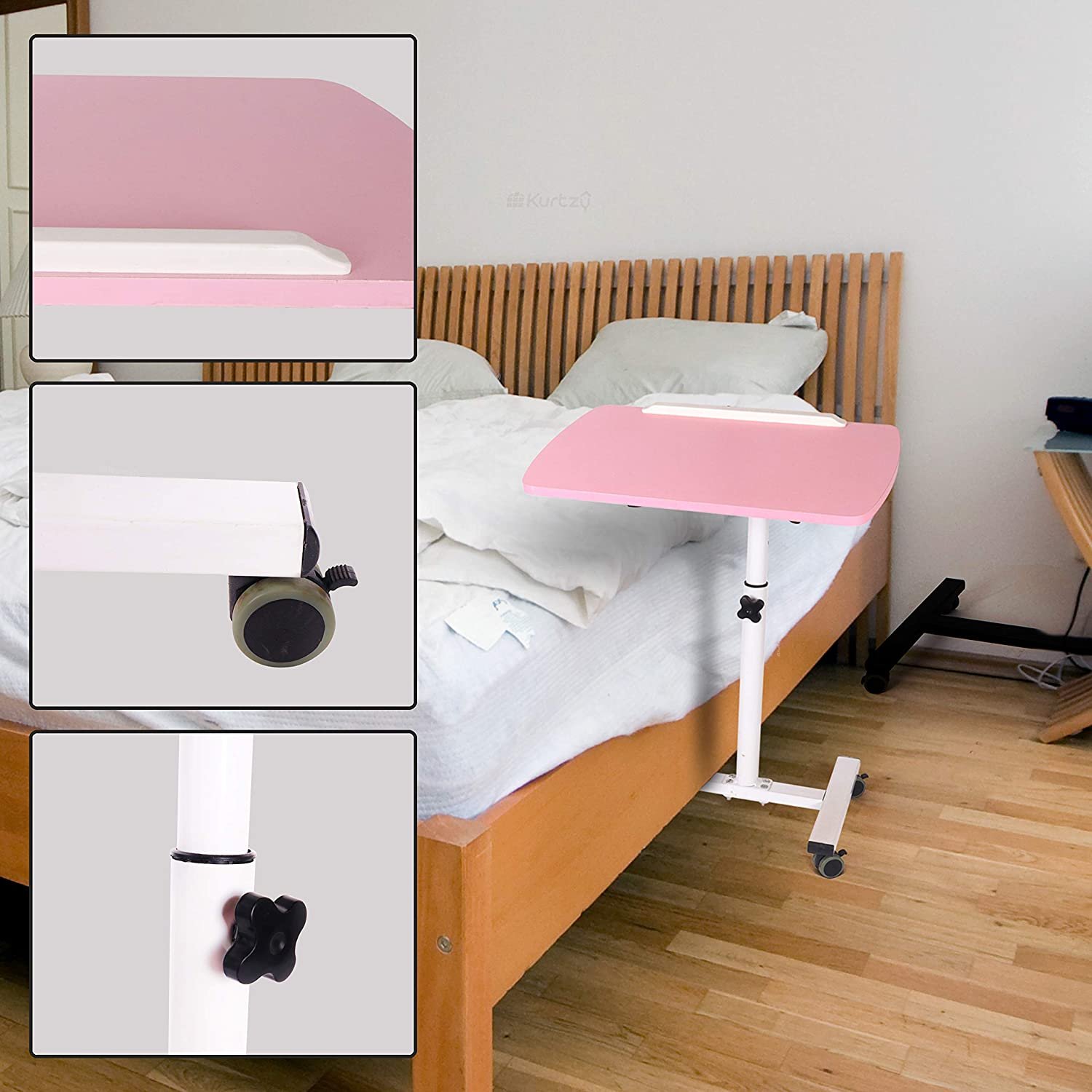 MATERIAL DESIGN: The table is designed with a strong steel tube and high-density wood for better resistance to withstand the weight.
PORTABLE: Laptop cum Study table includes 4 caster wheels with integrated safety wheel-locks with adjustable height and angle.
ADJUSTABLE: The table top is fully adjustable up to 90 degrees.
EASY TO ASSEMBLE: Delivered with an instruction manual, set of screws, and all necessary tools are provided. Can be easily assembled within 10-20 minutes.
MULTIPURPOSE: Ideal for placing your Laptop or for keeping books, the study table, can be used as a breakfast/dinner table for patients.
---
Why do you need a laptop desk?
Improves your physical health – A lap desk will result in improved neck and back posture.
Versatile and multipurpose – It can be also used for things like reading, writing, drawing, etc.
Productivity – A lap desk will increase your productivity and efficiency of working.
Comfort – Of course, a lap desk will increase your comfort and enable you to work for long hours without getting tired.
Portable and adjustable – Lap desks are very portable and lightweight, you can easily carry them in your travel bag. Some lap desks also come with adjustable height and angle.
So, a laptop desk is a must-needed accessory for work professionals who work on laptops for consistent long hours. Don't have a second thought and buy one of the above-listed high-quality lap desks.
Also, check out these best-selling laptop desks on Amazon.
Still confused? Contact us and we will help you choose!